Lacoste Love of Pink TV Commercial {Perfume Images & Ads}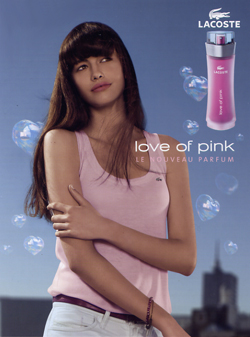 More pink and heart shapes today, coincidentally or not, after our review of
Ooh La La by Victoria's Secret
.
Love of Pink
by
Lacoste
was introduced in 2009. It is a fruity-floral eau de toilette which includes notes of blood orange, passion fruit, lemon zest, pink magnolia, jasmine, white cedar wood, vanilla, musk.
The TV commercial after the jump features the beautiful and haunting song by Jeff Alexander "Come Wander with Me" sung here by Emilie Satt.
You can also listen to a full rendition of the song by original interpreter Bonnie Beecher in a clip directed by Phillip Van and then the more recent interpretation by Anneke van Giersbergen of Agua de Annique...