Pomerol Séduction Partners with Annick Goutal Parfums {Fragrance News} {Shopping Tip}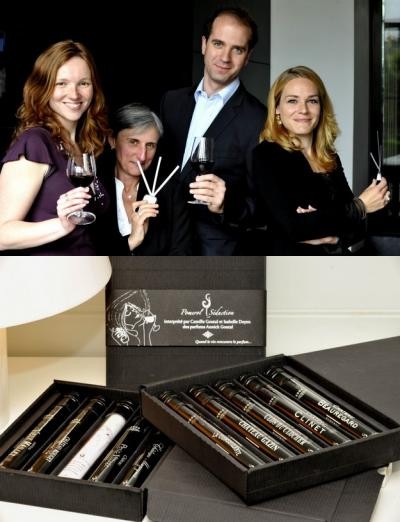 The association of 9 producers of Pomerol wines called
Pomerol Séduction
have partnered with noses
Camille Goutal
and
Isabelle Doyen
of
Annick Goutal parfums
to offer a special limited-edition wine-tasting coffret which launched on July 1st, 2010...
The coffret is made available in 330 copies. It contains nine 10 cl samples of 9 Pomerols from 2006 "bottled" in glass tubes named WIT.
It has been underlined that this is the first time in their history that Pomerol wines come in samples. The producers hope to attract a younger clientèle by so doing.
The contribution of Isabelle Doyen and Camille Goutal is to have tasted the wines in the collector coffret to come up with olfactory interpretations of them. They offer a written analysis of the Pomerols pretending those are perfumes.
A summary of the result in French:
"- le Château Petit-Village aurait des notes de myrrhe et de sureau,
- le Château Clinet de cassie et de Gaiac,
- le Clos du Clocher de benjoin et de sureau,
- le Château Rouget d'iris et de gurjum,
- le Château Gazin de mousse de chêne et de cèdre Atlas,
- le Château Mazeyres de vétiver et de bourgeon de cassis,
- le Château Beauregard de styrax pyrogéné et d'osmanthus,
- le Château la Conseillante de cire d'abeille et de géranium,
- le Château Vieux Maillet de l'extrait d'essence de carotte et de feuille de violette.
Enfin, pour Camille Goutal et Isabelle Doyen, le fil rouge des 9 vins de Pomerol Séduction serait l'absolue Boronia (extrait de la fleur d'un arbuste australien)."
Price
: 75€
Shopping addresses
: vins-fins.com; Lavinia in Paris; Badie in Bordeaux; Etablissements Martin in Saint-Emilion; all 9 Pomerol Séduction properties.
Via
Vins et Tourisme en France