Lady Gaga To Create Monster Perfume {Fragrance News} {Celebrity Perfume}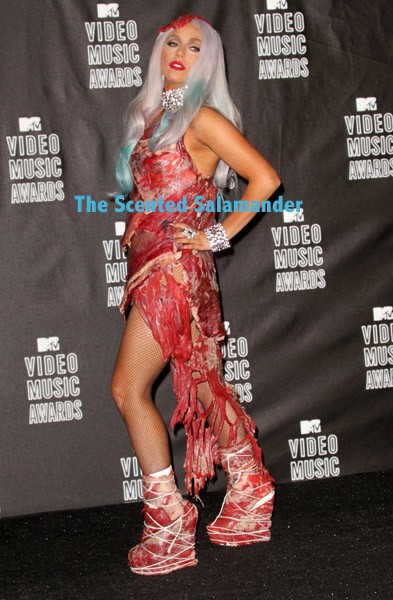 Picture © Mayer
Lady Gaga has already registered a few trademarks in the perfumery category but the latest one might be The One for
her debut fragrance to see the light of day in spring 2012
as reported earlier on.
According to
TMZ
, the name "Monster" has recently been trademarked by "the fragrance company behind Gaga's upcoming scent" which would be Coty Inc. as opposed to her own company Ate My Heart Inc. which reserved a few trademarks already...
Calling her signature perfume Monster would be a tribute to her fans whom she likes to call "little monsters."
It can be tiring to watch the whirlwind of sartorial metamorphoses that Lady Gaga goes through to captivate attention as well as express herself once you get the drift: always higher, bigger, weirder, and most major conversation piece. It's like listening to a crescendo that never ends. But I suppose that if you take a break then it can still feel relatively fresh.
We can only wait to see if Monster the perfume will be shocking in the top notes then revolting in the mid notes before finally lingering on as repulsive nuances in the base notes, with say a note of dead rat. That would be something to be expected. On the other hand, perfumes with mass-market appeal cannot be unwearable so there might be a reversal of values; something smelling catchy in the top notes, beguiling in the heart notes and addictive in the base notes. It's a bit yawn for Gaga, but much more sensible from the standpoint of Coty and we're sure the visual ad campaign will compensate the lack of gagaisms on the olfactory plane. Another pathway used by perfumers is to be inspired by the voice of the celebrity singer they are creating a perfume for, as they did for
Mariah Carey M
, so expect some deep notes.