Here's Hoping that Marks & Spencer Beauty Will Also Be Back in Paris {Fragrance News}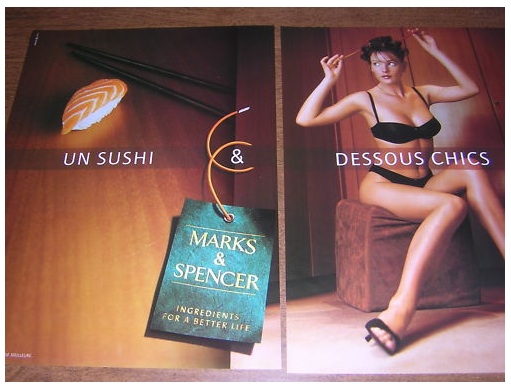 A French advert for M & S from 2000
Last spring, Marks and Spencer announced news that were heartwarming to many a fan of the British retail store: they will be back in Paris in the fall of 2011 - probably in November - just before Christmas to surf on the wave of the Holidays shopping season. It had been 10 years since they left.
But even if they came back at less momentous date, there is little doubt that they would see signs that they were dearly missed on the Parisian landscape. If you can still satiate your taste for some British delicacies at La Grande Epicerie du Bon Marché, the offerings are not as wide-ranging, nor have that casual, everyday feel which makes you become a de facto participant in British daily rituals...
Marc Bolland, Marks & Spencer's Chief Executive, said:
"Marks & Spencer has great brand awareness here in France and a place in customers' hearts. We're very excited to be returning with an e-commerce and retail offer to delight customers with our full range of clothing and home products, and the exceptional food from our Paris store."
There used to be a large flagship M & S store on the Boulevard Haussmann, facing the Galeries Lafayette. It has been reprised by the latter as their homewear section. The new store will be located at 100, Avenue des Champs Elysées replacing the Esprit store and will offer 15, 000 sq feet (1,400 square metre) of retail space organized on three floors.
Amongst the goods that are planned to be back on the shelves are womenswear and lingerie, menswear, kidswear, homewear and food. You will additionally be able to buy M & S foods at so-called Marks & Spencer Simply Food stores planned to open in and around the French capital city.
They do not say whether perfume and beauty items will be back as part of the lines of fashion accessories as they are currently categorized on the British website, but one can hope that they too will be back in store. In particular, it would be a pity to miss their makeup collections - they offer some of the best blushers under the sun with very subtle, natural-looking tones that are hard to find sometimes in France - and their bath collections are charmingly English-countryside. If you like florals, and soliflores, you will find an array of bath scented products. M & S have also been greatly developing their more sophisticated fragrance ranges, and so this is something to look forward too experiencing as well.
The new site will be a "bricks and clicks" one, with a blend of brick-and-mortar and online shopping experiences through an international French website at www.marksandspencer.fr. The latter wil be able to carry out international orders as well, just like the British site has recently been doing in a move to get their share of the expanding world of online marketing.
Via Marks & Spencer; Image: eBay.