DKNY Sweet Delicious Collection: Pink Macaroon, Creamy Meringue & Tart Key Lime (2012) {New Fragrances} {Limited-Editions}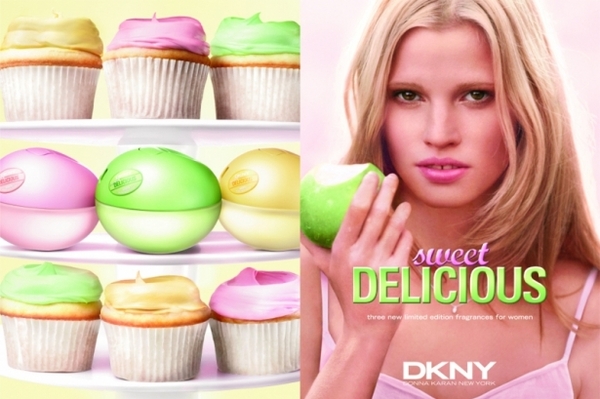 DKNY are evoking once more all sorts of gourmand indulgences this year with their new Sweet Delicious trio. Just to make sure no tasty cues were left out, the advert features the new macaron du jour, cupcakes, while the three gustatory perfumes offered by the brand are called Pink Macaroon, Creamy Meringue and Tart Key Lime. This is a follow-up to their sweet suite from 2010 entitled Candy Apples Collection

Macarons are so 2010 and cupcakes are so 2011 (this is a reference to the number of adverts in France which replaced one wave of adorable pastries with the other as the it-pâtisserie)...
2012 takes stock and goes for both, plus meringue and key lime pie, at least chez DKNY.
Pink Macaroon features notes of nectarine, kumquat / rose marzipan, pomegranate / amber and tonka.
Creamy Meringue has notes of lemon cream, bergamot, "crepe suzette" accord / freesia, frangipani and passion flower / cedar, white amber and musk.
Tart Key Lime rests on notes of orange, bergamot, mandarin / neroli, ginger, basil / violet leaf.
The colors and themes of the advert, fronted by model Lara Stone, are visibly influenced by the Sofia Coppola movie about Marie-Antoinette. Since then, cute, boudoir pastries in a gamut of colorized pastels have left their marks on our society and no one is complaining.
Just like ouds are here to stay, gourmands are here to stay since 1992 and Angel. In fact, you wonder these days how one could have ever lived without gourmand scents Angel B.D.
The collection launches from February 2012 and will be available in 50 ml eaux de toilette.
Via Become Gorgeous