Lush Celebrate Chinese New Year with Red Dragon Soap & L'Oeuf du Dragon (2012} {Beauty Notes} {Bath & Body}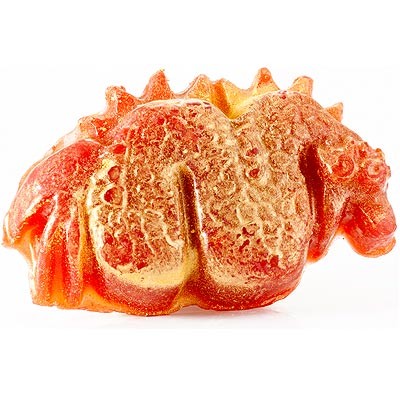 Lush are welcoming the 2012 Chinese new year of the Water Dragon with a limited-edition Red Dragon Soap and a bath ballistic called L'Oeuf du Dragon (Dragon Egg.)
The lucky soap is colored an auspicious red sprinkled with gold dust. It is scented with their best-selling Karma fragrance...
"Part myth and part legend, we thought that the spicy blend of patchouli, lavender and pine perfectly captured the passionate, creative spark, and free spirit nature of the Dragon. Intense, earthy, and confident: have a wash with the power of our Red Dragon Soap and your ambitions for the year ahead may deliver you with good fortune. At the very least you'll be nice and clean, and smell scrumptious."
As always with Lush, there are lots of natural ingredients: patchouli oil, sweet orange oil, lavandin oil, Siberian Pine oil, lemongrass oil, elemi oil (the natural materials are coded green and the synthetic ones are coded black on their websites.) (£4,75.)
In the French market and on the Gallic Lush website you can spy the L'Oeuf du Dragon bath ballistic. You won't need to go to Chinatown to watch the dragon procession if it's too cold, you just need to let this cute ball fizz in your bathtub: red-orangey flames resembling a baby dragon escape from the egg in a sea of gold sparklies and amidst swimming rice paper flowers. Lush call it a "new generation of ballistics." It is scented with essential oils of lemon, bergamot and jasmine absolute so that you also get the aromatherapeutic effects of the blend (5,95€ for 200 g).