Serge Lutens La Fille de Berlin (2013): A Perfume about Extreme Experiences {Perfume Review & Musings} {Rose Notebook}
Perfume Review of Serge Lutens La Fille de Berlin by Chantal-Hélène Wagner
The first tonalities of the perfume are of ruby red petaly roses and earthy, dirt-like tones making you think of humid black soil, possibly graveyard dirt. Then it turns dusty and mute, almost grey in color before coming back to life...
Serge Lutens told WWD that the new La Fille de Berlin (The Girl from Berlin) was inspired by post-war Germany, and in particular, the harrowing experiences of women during the Soviet occupation of the city as recounted in the extraordinary and up until recently anonymously authored autobiography A Woman in Berlin (Eine Frau in Berlin),
"He [Serge Lutens] noted that the scent was about finding beauty in the darkness and persevering through adversity with strength and humor, as women in postwar Germany had to do, when they were as plundered as their cities by occupying forces meant to restore order. This story is movingly told in the anonymous best-selling autobiographical book titled "A Woman in Berlin," clearly an influence."
On the first page of the diary which was written by Marta Hillers, started in April 1945 "on the first day that Berlin saw the face of war", we can read the following passage which describes the incongruous, almost forgotten smells of flowers in the war-torn city on the verge of further destruction and deshumanization,
"It's true: the war is rolling towards Berlin. What was yesterday a distant rumble has now become a constant roar [...] Now and then whole hours pass in eerie silence. Then, all of a sudden, you remember that it's spring. Clouds of lilac perfume drift from untended gardens and go wafting through the charred ruins of apartment houses. Outside the cinema, the acacia stump is foaming over with green. The gardeners must have snatched a few minutes between sirens to dig at their allotment plots, because there's freshly turned around the garden sheds up and down Berliner Strasse. Only the birds seem suspicious of this particular April: there's not a single sparrow nesting in the gutters of our roof."
What can a perfume tell about such torments? Not much on its own. It however fulfills the purpose from the get-go of calling attention to a chapter of history, which like all chapters can be closed. It can suggest and be allusive.
The fragrance composition on the olfactory plane plays with extremes, taking a classic floral note, the rose, to convey a sense of limits that are pushed back further away than is usual.
What you smell in La Fille de Berlin is a rose which seems to open up, breathe and turn from red to green in the initial stages of the perfume.
Pushing the envelope, the rose even dares to smell sour and shrill - just for the heck of it it seems - and as if to explore a range of notes usually discarded by perfumers as little compatible with an ideal of beautiful perfumery.
As we pointed out earlier in our review of Dries Van Noten par Frédéric Malle beauty doesn't have to, and must not sometimes come easy, although for Serge Lutens the question is not so much of bordeline ugliness it seems, but rather of an exploration of olfactory sensations usually avoided as being simply disagreeable. The reference point comes across as being more about sounds than about images.
What is interesting in this particular rose composition is the quest for beauty at the farther edge of it, at the extreme of it. We can only repeat what Lutens wanted to stress, that "...the scent was about finding beauty in the darkness and persevering through adversity with strength and humor..."
It's knowing with perfume where to go too far and when to stop, unlike with history.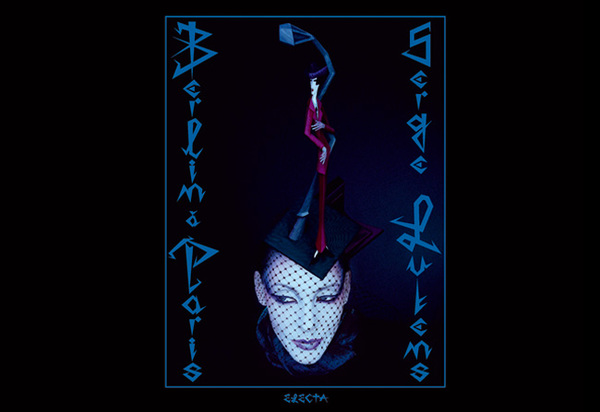 Berlin à Paris is the new photographic book by Serge Lutens launched parallel to the perfume
So perhaps a good descriptor for La Fille de Berlin would be something like "Extreme-Beauty". The analogy to our mind here is to corsets that used to pinch waists to death, or to those extravagant false eyelashes today that sweep both up your foreheads and down your cheek bones as you flutter your eyelids like bird wings of paradise; this perfume, and the rose in it, are exaggerated. The rose note is interested in screeching - making an ugly sound - rather than in being caressing to our senses.
It does however actually also turn more caressing, as a facet, to counterbalance the sharpness of the main, say, Expressionist rose accord. In the press materials, Lutens writes about the girl from Berlin that,
"She's a girl who goes to extremes. When she can, she soothes, and when she wants! She rocks and shocks".
Visibly Lutens is grappling like the rest of us for words to render the mission and aim of the perfume, which has its own language. What you perceive certainly are those shifts in hardness and softness. It could be Weimar Expressionism or it could be rock 'n roll.
I personally like the word "paroxystic" to convey this feeling because this is what it feels like when the rose amplifies its effect, like a war siren. In Paris, on each first Wednesday of the month, you will hear that sound again as City Hall are checking to see if their war alarm still works ok.
What could be deemed to be a defect has thus been turned into a style statement. The natural metallic aspects of the rose, which in this respect smells like ferrous blood - the ruby-red color of the juice making now perfect sense - have been cultivated like the smell of a rose made of iron.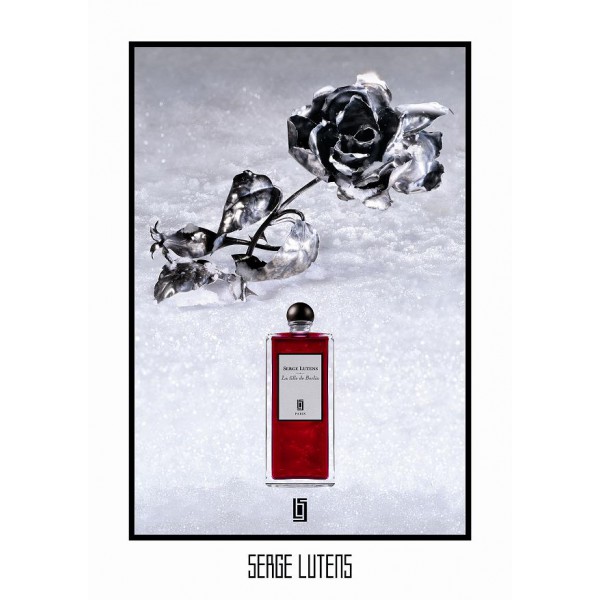 The perfume is heady and a bit cold, with some muted, fruity roundness. The more pillowy, generous and fruity nuances of the rose are present but the result makes you think back to one of the original specialties of Peugeot who today are known as a leading car maker but were once a manufacturer of iron corsets and crinolines in the 1850s.
If rose, generally speaking, embodies femininity, this iron-clad or steely rose bears the print of the masculine eye on the feminine silhouette, of a Yang principle affixed to its Yin.
Lutens refers in a rather cryptic manner possibly to rape in the press materials mentioning "the blood of Siegrfried on her lips" and to "having taken her courage, in the gold of the Rhine, melted her fleece".
One should not however consider this iron rose as not also deeply feminine on its own. In it there is the scent of fresh, menstrual blood. Serge Lutens has been speaking on more than one occasion of this idea of his feminine alter ego. Here, we might be smelling the idea of her physical and mystical body.
After the bread of Christ in Jeux de Peau, it feels like we might be inhaling the blood of Christ infused with incense and rose and the rusted scent of the nails of His cross. When you smell this rose from Berlin, it prickles the inside of your nose, like mustard or an array of minuscule nails, or dare we say shrapnel? A note of red pepper is said to have been added.
The autobiographical thread is also present, as ever. A snow thematic is alluded to and this reminds me ofLouve.
Re-smelling Nombre Noir, the original Serge Lutens perfume, launched before the house was born at Shideido, tells you that the evolution has been great. This is not a return to Nombre Noir - as once affirmed by Serge Lutens in an interview he gave the blog - whose beautifully animalic-and-dusky, smoky accents were not transferred to the new composition. It is also very different from Sa Majesté La Rose which is powerful but more classically lush, dramatic and natural.
Like Nombre Noir and Rose de Nuit, La Fille de Berlin is more of a dark rose, but more dissonant in its effect than the other compositions cited. What is also noteworthy is that the civet in Rose de Nuit has been replaced by musk, one which is rather animalic and a bit perverse-smelling. In fact, it smells a bit harlot-y to me, making me think of a "parfum de cocotte" due to something heavy, a bit stifling, and willingly I think, vulgar about it; it is suggestive of the atmosphere of a brothel reminding you that "fille" in 19th century French also bears the meaning of "prostitute". This could be an allusion to a war brothel if we keep following the story line. But there too, the perfume remains honorably wearable because it remains borderline. You're on the thin edge of smelling like a tart but pass muster nevertheless.
There is no redemption in the end it seems, we are called back to our animal nature.
In the end "Extreme-Beauty" needs to be redefined as that capacity we have of finding beauty at the end of an experience of horror. What is perverse is to need that to feel beauty. What is wholesome and life affirming is to not despair. While extremism is something I loathe in life and see as a sign of imbalance - see, it does trigger in me a corresponding reaction - aesthetically I find it acceptable and able to convey a perilous balance. If a perfume could make you think about that, then it cannot be called frivolous.