Mojo Magique (2013) {Perfume Short Review}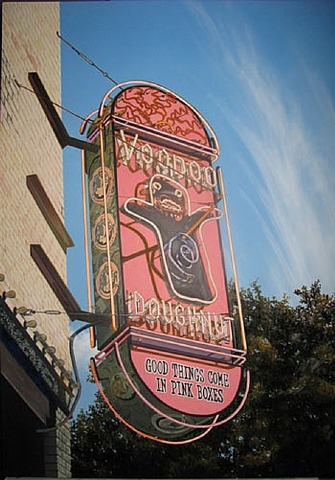 Voodoo Doughnut, Oil & acrylic painting by James Gucwa, 2011
Mojo Magique is the debut perfume of a local Louisiana home decoration business called Mojo. The fragrance was composed by perfumer Jean-Marc Chaillan of IFF. Brand founders and twin brothers Doug & John Kennedy explained,
"We grew up on the bayou," says John Kennedy. "My mother loved growing roses. Everywhere you go in our region, you can smell night-blooming jasmine and sweet olive. Your senses are heightened by the lush, sensual, and tropical smells that surround you here, and we wanted to incorporate that into Mojo Magique."
With this kind of opening, you expected something particularly haunting, mysterious and exotic. In reality, Magique by Mojo alludes to everything it is not, like the hole in the Portland-based Voodoo Doughnut claiming "The magic is in the hole!!!". Some will see it as a reassuring twist on the local tradition of black magic, others will regret not more efforts were made to keep some of that tradition alive in a perfume. Given the rich historical backdrop of Louisiana, we feel that they could have done so much more...
The opening of the eau de toilette is very citrusy - with a subtle nuance of spicy orange - and instead of relenting, becomes even citrusier fading into a green note - green mandarin probably - while more metallic and graphite-like accents reveal a modern woody masculine base. The perfume is slightly powdery, creamy and most markedly hesperidic at this stage.
The fig, muguet, jasmine and lavender accord in the heart of the fragrance translates as a metallic, cold and lightly creamy fig, one that would have been transperced with rusty nails and magnet-attracting graphite particles. We don't know if this is an attempt at suggesting a vodoo doll stuffed with dried lavender flowers wafting scrooping smells and bearing the marks of pointed and anonymous resentment, but this is one of the ways that it comes across to you if you look for a session of dark magic in the story of the fragrance while indulging in a close-up perception of the perfume. The jus is slanted towards masculine and metallic in its base.
Overall, Magique by Mojo seems to be most of all an adaptation effort to the climes of the Louisiana region taking into consideration the functional purpose of an eau de Cologne which is to revive you as the sun is trying to get you down. It is a richer, spicier eau de cologne - as far as its smell is concerned, but not its heft which is very light - than your basic idea of it, with that hint of powder that reads "clean" in some olfactory cultures. The fig accord makes it a bit fruitier and exotic also than your average German Kölnish Wasser. If you expected a magical brew replete with decaying, disquieting smells, this is not it. It is more of an eau de cologne-turned-eau-de-toilette with a discreet, refreshing personality but also a bit too generic.
In fact, and in our estimation, this is one scent that we could have discovered in the airplane bathroom as we landed in New Orleans. We might have been glad to splash some on but only if it were very, very hot outside. And then, maybe, if we had kept some great memories of our trip, we could have developed some affection for this really unassuming, low key fig cologne.
As Roget et Gallet just released a new fig perfume around this idea of a richer, fruitier eau de Cologne called Fleur de Figuier, you will notice that it is much frutier, creamier and more characteristic if you get a chance to smell both.
Mojo Magique tends to be too tenuous and especially lets you down on the story front: you expected really more of a voodoo spell with such a name. It smells too much of a fleeting tourist concoction to convince. We're not sure you might even come under its spell as a souvenir when there are so many other local perfumeries options. "Peut mieux faire!" as they write in your schook notebooks in France!
Fragrance Notes: lemon, grapefruit and mandarin followed by a heart of muguet, fig, jasmine and lavender and concluding with cedarwood, sandalwood, patchouli, pepper, anise, cinnamon.