New Fragrance: Illamasqua Freak Scarab (2013)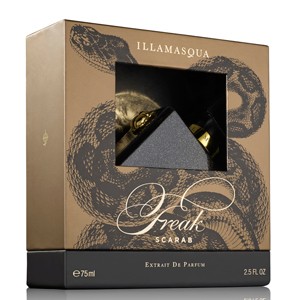 British makeup brand Illamasqua have launched a new perfume baptized Freak Scarab. It is their second release following up on Freak (2011) introducing a new composition whose only common olfactory signature with the former are the presence of a thick and dark davana note and queen of the night. Otherwise, the formula differs. Part of the name remains...
The name of the new scent takes inspiration from the strange, perpetual-and-proud-Halloween feel of the brand, alluding this time to a symbol of the Ancient Egyptians, the scarab or dung beetle embodying a cycle of eartly transformation paralelling heavenly transformation.
"Freak Scarab is the decadent new fragrance from Illamasqua. A unisex Extrait De Parfum, it enchants. Captivates. Corrupts."
"Let the age of indulgence be reborn"
You can also note that the famous vintage perfume base called "mousse de saxe" is featured in a modern adaptation form, which should be appealing to perfume wearers who prefer heftier fragrances like the Caron perfumes known for this famous perfumery base.
The mousse de saxe base created by Marie-Thérèse De Laire of De Laire company includes notes of oak moss, licorice, geranium, leather or isobutyl quinolin, myrrh, cedar wood and vanillin.
Parfumerie Générale Papyrus de Ciane showcased the revivalist base as well in 2010.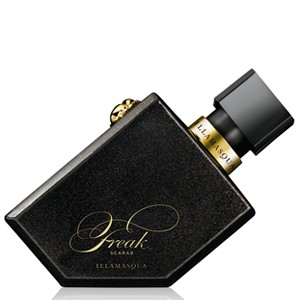 TOP NOTES
Blood Orange, Neroli Absolute and Ylang Ylang awaken and entice the senses.
HEART NOTES
Davana Oil entwines with Egyptian Jasmine, Honeysuckle and Queen of the Night to form a sensual heart.
BASE NOTES
The warmth of stewed plum creates a distant depth, leading to the rich ancient accord of Mousse De Sax- Geranium, Anise, Moss and Leather.
Price: £85 for 75 ml.