4711 Wunderwasser für Sie und Ihn / for Her & Him (2014) {New Fragrances} {Men's Cologne}
When Aqua Mirabilis Wears Blue Jeans
The house of 4711, creators of the world-famous classic Mülhens 4711 cologne, have released a new duo of fragrances for her and him aiming to appeal to a younger generation of 4711 devotees. Wunderwasser for Her and Wunderwasser for Him eaux de cologne were composed respectively by perfumers Véronique Nyberg and Vincent Schaller...
The brand have been periodically interested in rejuvenating their image, which is particularly venerable, as in 2011 with the evocatively titled Nouveau Cologne.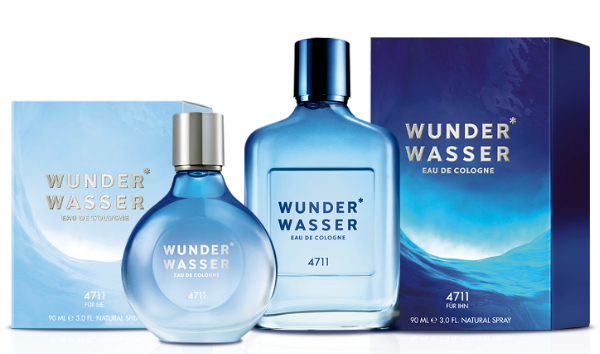 The New Invigorating & Energetic Facets of 4711
Wunderwasser for Her is said to open "with a vitalizing composition of tangy pomelo, neroli, lotus blossom and pistachio blossom. This is followed by a richly contrasting combination of iris and pink pepper. The fascinatingly feminine fragrance is rounded off with sensual sandalwood and a hint of vanilla and musk."
Wunderwasser for Him starts "with an impressively fresh, citrusy cocktail of mandarin, bergamot, lemon and a spicy hint of black pepper. The distinctive heart note contains lavender, star anise, iris butter and cistus, while the base note of patchouli, teak, sandalwood and richly facetted driftwood sensually rounds off the fragrance."
While the bottle design has been adapted and refreshed by Peter Schmidt to reflect new mores, the cooling eau de cologne reference remains legible in the brisk blue palette. The new names also allude to the ancient name "Aqua Mirabilis" (Wonderful Water) which designated the scent now best known as Eau de Cologne.
Via Mäurer & Wirtz