Clinique Beyond Rose (2014): Bitter Oud {Perfume Review & Musings}
Brutalist or Mainstrream, Depending on Where You're Coming From
Beyond Rose by Clinique is the latest unexpected perfume creation by a household beauty and fragrance brand Made in the USA...
The news appeared at first as a surprise announcement, so familiar and stable is their library of fragrances. Soliflores are moreover not part of Clinique usual lineup. You then learn that it is a Middle-East exclusive and you recall the fragrances by Estée Lauder - a sister company - created for the Arabian market with the first one, Wood Mystique.
Where Beyond Rose sets a new standard of acculturation is in how strong and pungent a fragrance it is.
This is no rose-and-oud perfume "inspired" by the Orient, despite what is stressed, aiming to please both the shall we call it "Western market" and "Middle Eastern market" as if they were on the same olfactory continuum.
Here we experience a breakdown of consensuality.This is a composition completely tailored to the tastes and climate of the region of origin - where oud is endowed with institutional centrality.
The perfume seems - under France latitudes and general taste/smell orientation - to be a 10, or 11, on a scale of 10 of tolerance for oud perfumes, especially if you apply it normally.
Beyond Rose, which sounds somewhat like a calque of Beyond Paradise by Estée Lauder, is about extremes. The "unique wild rose" accord opens the perfume, retreats and comes back in its two quieter moments, the beginning and the drydown. The oud in Beyond Rose, lashes out in its heart long enough for you not to be able to bypass it.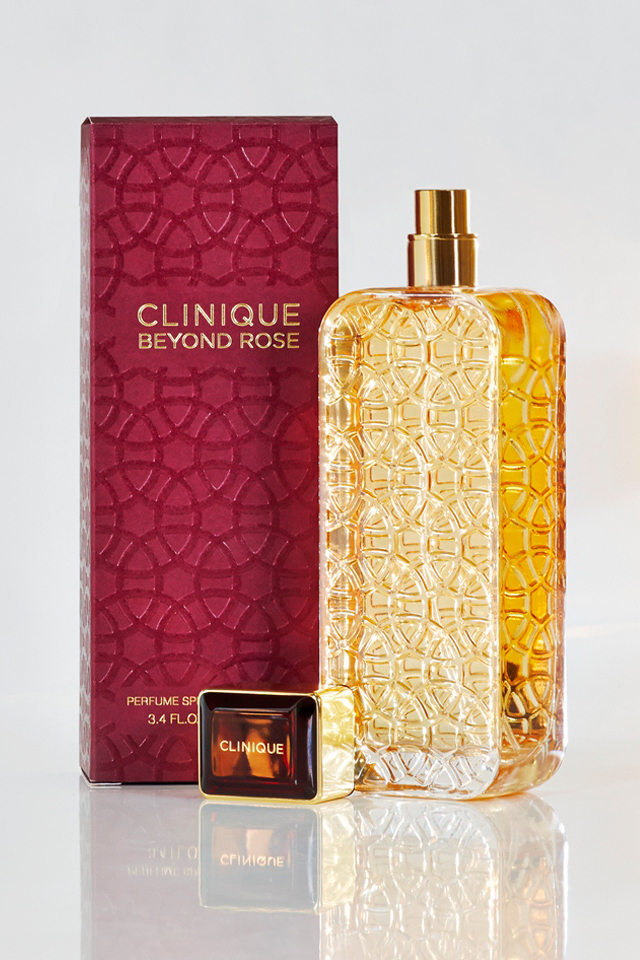 The oud or agarwood tonality in this interpretation is very camphoraceous, closest to what is usually ascribed to Cambodian oud. While a French brand like L'Essence des Notes offers an easy to warm up to, suble yet strong take on the material in Oud d'Angkor (2013) meant for men but with an unisex appeal, Beyond Rose is just a free fall into a giant medicine cabinet chest for those who happen to be on the other side of Arabian cultures. The rose note, pleasant and round at first, fast dissolves into a black sea of unrelenting fossil oil-smelling oud for whoever like their steack burnt, their wine extra dry and their 90% dark chocolate to be oh-so bitterly pleasurable. We are entering an appreciation zone where what is disagreeable to most is agreeable to a few select palates.
One thing you can underline is that this is not, absolutely not, a perfume for grown up babies. If gourmand perfumes are in fact playing with our regressive taste for sweetness and childhood gustatory associations, this is about, perhaps a different childhood, where candies were prohibited and oud was worshipped. Of course, it doesn't make sense when you know how decadent are Middle Eastern desserts, but it so happens that they do not make an entry in this austere-to-harsh perfume, with few weak spots.
If support is sought to add nuances to the oud note, it is to be found in a spicy clove and a powdery carnation-like range; white pepper is mentioned. In other words, you will associate it with efficient mouthwash and a dentist armchair before you can snap out of your instinctive memories.
The scent of bandaid is an apt metaphor for the oud accord at hand, one rescued from a vat of the concentrate of chemicals used to give it its distinctive olfactory punch. There is vanilla but it is almost anecdotal. Imagine a speck of white on a soot-covered ground after a house has burnt, that's about what vanilla is doing here to sweeten and white-wash things. It is in fact ironic to smell an Oriental perfume which relies so little on one of the mainstay ingredients of the classic Oriental fragrance family.
The drydown lets out the osmanthus and white pepper nuances be better felt, when the perfume becomes more ambery and quiet. This is the most seductive part of the scent.
Clinique, a mainstream brand by tradition, is showing us where they think mainstream Middle Eastern appreciation for oud goes. Beyond Rose would be marketable with great difficulty in wider European and American markets because it does not seek to create any sense of olfactory compromise. Few niche brands would take it on. It is a brutalist oud by our floating, Zeitgeist-y references. It is a rude awakening to alternate oud realities and sensations in the world.
Seeing an American brand take the leap of privileging a local perfumery viewpoint rather than a global one shows their will to court the Middle Eastern market on their own terms. The financial and market-share stakes hinging on the prized, recreated pathogenic material are high. Perhaps there has been an habituation to oud too and the pushing back of limits is easier to accomplish now than 5 years ago with a forerunner adapted, urbane oud composition like Midnight Oud by Juliette Has a Gun (2009).
When Clinique write,
"Rose as you have never known it... sheer layers that build into an intense experience, with hints of amber and a shock of pepper.

This scent owes nothing to the past except the certain knowledge that fragrance is seductive. Modern, clean, sophisticated and worldly, it's fragrance for today and the future."
You have to wonder what they are doing to the word "Clean". Do not expect this to smell clean in the aquatic, just-showered and breezy, marine sense. This is "clean" in the sense that they are willing it to smell this way, but mostly clean in the traditional Arabian context of fumigating your clothes with oud and purifying your house with oud - not with soap. To a mainstream nose outside of this sphere of reference, it smells a bit animalic, not to the point of coming across as dirty, but certainly a bit leathery, harsh, and primitivist, or perhaps better said, primal.
Now, you feel most curious to know how it will be received locally in the oud-for-all category, since Clinique does not position itself as a niche label.
Fragrance notes: White Pepper, Freesia, Mate leaves, Rose Absolute, Rose Oil, Osmanthus, Styrax, Cistus Labdanum, Amber and Benzoin.