Robin McGraw Georgia Eau de Parfum - The Steely Sweetness of Honeysuckle (2014) {Perfume Review & Musings}
Photo ©Chantal-Hélène Wagner
Robin McGraw - the better-half of relationships TV guru Dr. Phil - and a philanthropist and beauty entrepreneur in her own right, is coming to the attention of perfumistas nationwide with a debut signature perfume named after her mother Georgia Jameson, which just launched on HSN.
Georgia Eau de Parfum is said to be inspired by her mother's love and strength of character. Going without further ado to the olfactory effect, this has resulted into a fragrance composition which is very feminine, soft and hushed down. Aimed at a large public, it bears the hallmarks of blend which has to be vague enough to please a great percentage of persons - the great French perfumer Dominique Ropion once said that perfumes destined to the mass-market are usually "vaguer". It nevertheless manages to stress one trait of personality, which is its sweetness not as in a frosted cupcake but as in "a sweet person" and "a sweetheart". It is a subtle and suave scent, which is very well balanced...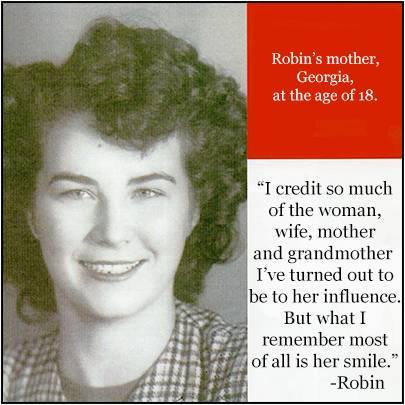 Georgia opens on a fruity-floral tonality which is a bit peachy, well enveloped by transparent amber. It then gains strength revealing more powdery musks underneath the soft cloak effect. Next, you perceive a sensation of sensual woods mimicking sandalwood, an apt note for a fragrance inspired by maternal love.
If there is a smell in the natural world which seems to have been suckled at your mother's breast, it is sandalwood with its famous milky nuance.
The patchouli is subtle, which is not usually its main attribute.
Georgia is sweet too; in the midst of an ensemble of vague, abstract perfumery accords, the sweetness accentuates, but without ever becoming foody.
This is a fragrance which was composed to be supportive of your femininity without overwhelming your personality in any obvious way. It smells of the sweetness of honeysuckle you want to say - although the sensation rests on the softness of lotus together with other notes like freesia and orchid - but way tuned down and more indefinite. The effect is there however, present enough to convey the idea of a Southern Belle perfume, but very much quieter.
To me, it makes me think of the atmosphere of a city like that of Charleston with its old-world, colonial feel and polite society built and perpetuating itself in a country which is much more angular, fast paced, brisk and masculinized in general.
Robin McGraw was not born in Charleston or South Carolina but she was however born in Texas and brought up in Oklahoma. I'm no expert in this matter, but I know that some people will classify Oklahoma as being Midwestern while others will say that it is definitely a Southern state. For the United States Census Bureau and as of 2010, it is part of the South - and the West South Central States in particular - together with Arkansas, Louisiana, and Texas.
If you hesitated a bit, then Georgia edp would place those influences Robin McGraw must have experienced in her lifetime, in the South. The perfume is gently lush, feminine, and well-groomed to the standards known to prevail in the South. It conjures up a vision of pretty resting on work and fortitude made iconic thanks to a movie like Steel Magnolias, not just natural beauty.
Photo ©Chantal-Hélène Wagner
The scent makes me think of shrubs of bougainvilliers balancing themselves softly in the tropical air, a motif which appears in the advert actually but which even without that reference, reminds me of my personal life in the tropics and the love my mother had for bougainvilliers. This is both a tropical and urban composition not to be confused with a tropical and beach one. Here, you imagine terraces, verandas, tea-time - there is actually a tea leaves accord - the gentle sweetness of perfumes worn by coquettish, lady-like women dressed to the tips of their lacquered fingers. There is no trace of violence - just soft warmth - and that might be the definition of love.
Since the fragrance is linked with the charity When Georgia Smiled which fights domestic violence - physical, psychological and verbal - it is apt that the effect of infinite softness was sought out, but also warmth. The olfactory symbol of the lotus is also a good one since it is a flower which has its roots in the mud while it raises its head above the water. Lotus essence has a very suave and sweet note naturally. In this context, this fragrance reminds you with its whispering notes on skin that you should not despair and that you should never perpetuate violence even if you were a victim of it. In fact, the best way to counteract those actions is to be your own self-respecting self and perpetuate love and tenderness instead.
We think that this great message could be further spread if there were small size options for the perfume like travel sprays so that more people could be touched more easily by this kind of message put out in perfume form.
Fragrance notes: top notes of bergamot, pink freesia and water lotus; a heart of whimsical orchid, feminine rose and tea leaf, and a base of patchouli, soothing amber and coral musk.
For another perfume inspired by a mother-daughter relationship, you can check out Annick Goutal Mon Parfum Chéri par Camille.