Hermès Rose Amazone (2014): From Hokusai Manga to Video-Game Mangas {Perfume Review & Musings} {Paris Photo}
Three Graces & Three Amazons ©Chantal-Hélène Wagner
Rose Amazone by Hermès is the latest reworking of one of the house classics from the revamped Les Classiques collection by current in-house perfumer Jean-Claude Ellena who already tackled Bel Ami last year with Bel Ami Vetiver...
The original Amazone was launched in 1974, then relaunched in 1989, adjusting itself already to a different decade. The creator of Amazone, perfumer Maurice Maurin describes the 1970s as a decade of heightened complexity in perfumery formulation, a period in which it was standard to use between 300 to 400 different ingredients in a perfume bottle. Today, he adds, it is a new standard to expect to use between 40 and 60 different ingredients. He thinks that it's for the best. It actually makes the life of a perfumer easier and the personality of a perfume better controlled.
Those who bemoan the passing away of a grand era of perfume-making will understand that this shift of paradigm is partly responsible for their new experiences, added to the issues with allergy-safe reformulations dictated by the European Union.
Jean-Claude Ellena is at the forefront of a movement in perfumery which advocates that less is more, encouraged in this view by his master Edmond Roudnitska who felt this was the way of modern perfumery creation in an era when minimalist codes in other areas of creation were also becoming more prevalent.
It has become rarer and rarer nowadays to happen on old-school perfumes boasting of hundreds of ingredients which de facto necessitates a different approach to perfumery creation - in particular, more of the most precious and fast-disappearing ingredient of all, time, to understand and control all the effects - but it can still happen as with a German perfume launched in 2007, Steffen Schraut eau de parfum by perfumer Frank Ritter, albeit the complexity in it has been reduced severely from the 1970s apex, to 120 ingredients.
Jean-Claude Ellena's career spans those differing decades and he often brings up his First by Van Cleef & Arpels as an example of a perfume stuffed to the gills with perfumery ingredients, an aesthetic which he feels for himself betrays his academic training and does not reveal his true personality. He composed with 180 ingredients for it, which includes nearly the whole range of perfumery ingredients he sees today on his perfumer organ, or rather carrousel, amouting to 200.
Rose Amazone is thus the newest attempt to adapt Amazone to new mores and sensibilities. Jean-Claude Ellena speaks of his interest in a new generation of the leisure society, the ones who play with video games and read mangas. Given his interest for Japanese visual art and Hokusai in particular, you might view his new attempt to modernize a classic - because, this is what takes place - as comparable to the shift overtime from a collective interest in Hokusai Manga (1814-1878) to the current manga graphic novels, movies and digital-images culture. Likewise, translating Amazone (1974) into Rose Amazone (2014) is making the economy of an organic evolution over a long period of time, but realizing in the present that what is classic can survive in a modern paradigm, and in fact much more than that, one which symbolizes modernity itself.
For those who will discover Rose Amazone first, if you look at it from a different ego perspective than yours - I'm reusing an anthropological term which indicates the viewpoint in a genealogy of kinship - it will be like, perhaps, experiencing the contemporary visual and digital world, and then realizing that Hokusai (1760 - 1849) is behind this wealth of futuristic forms.
How does it Smell Like?
If I was expecting to recapture a bit of Amazone the original, I am a bit more surprised to discover some of the fresh, leafy and delightful cassis, specifically, blackcurrant bud notes of L'Ombre dans l'Eau by Diptyque (1983), which is one of my favorites of the house perfumes, on a spontaneous level.
Soon, very soon however, the original Amazone can be smelled again. This is a woody fruity-floral and ambery perfume with a hint of chypre which has a very particular tonality which is immediately recognizable. It is a characteristic mix of sweet amber and fruit, and it seems, cassis, which has been amped up in this new revisit of the fragrance. The perfumer has pushed to the front minor accords of the past, namely that blackcurrant bud, the raspberry, the redcurrant and also the citruses: lemon, orange, bergamot, tangerine, grapefruit.
There is also simply more of the rose note, which explains why it's starts by smelling like L'Ombre dans L'Eau (rose + cassis).
The raspberry note, a staple of 1970s perfumery, has been enhanced by tarter accents to rejuvenate the old-timer.
Amazone has a very distinctive signature, an understatedly original one, and it's been preserved. At the same time it is part of a pool of perfumes at Hermès that have close kinship: Parfum d'Hermès, Amazone, Rouge, and now Rose Amazone all develops a sweet, fruity amber note which is not one of the most popular accords on the streets and therefore more easily attached to the name of Hermès.
What the new version adds is a tarter treatment of the composition overall which might be the perfumer's idea of rejuvenating the audience of Amazone, or of playing with tartness. Given the fact that Ellena mentions Manga literature and video games, I would wager that it is both a desire to study and push Amazone in the direction of tartness and acidulic notes while implying at the same time that this is the olfactory palette which is bound to convince a younger spectrum of modern amazones that this should feel right for them.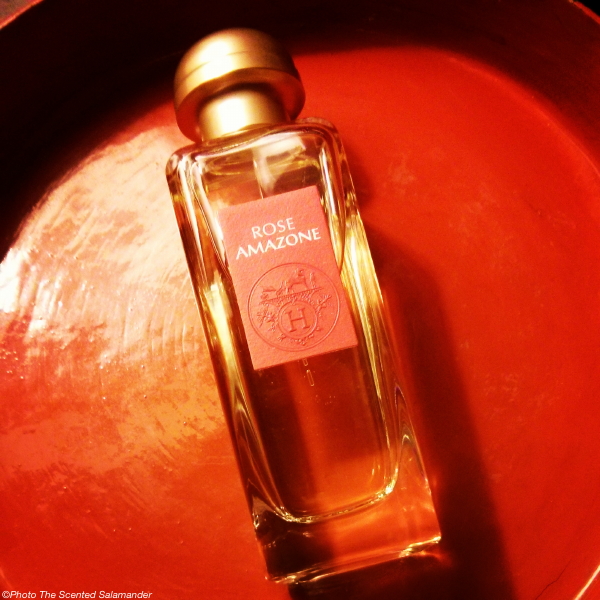 In truth, and as you smell the bite of the grapefruit fan out and the whole composition insisting on this idea of, even sourness - think sour candies too - you have to see that Rose Amazone is not a rosier amazone but much more to the point, a fragrance playing with a slightly uncomfortable range of sensations. Add "astringent" to the gamut - "mustardy" too. And finally "metallic".
The citric notes - rather than the classically citrusy ones you want to say - border on the metallic. The fragrance leaves a cold and metallic impression on the tongue even if you have not done anything else but smell it like one does close reading. The parallel with video games becomes more obvious with its techno metallic universe. The rose becomes influenced by this Star Wars atmosphere and starts smelling green, and even platinum-colored. It is a powerful rose accord which feels futuristic because it is so intent on playing with the limits of the classic rose accord supposed to round off perfumes. The same thing happens to vanilla which starts feeling silvery.
It all creates a very contemporary atmosphere which is more strident and unripe than in the original. It is a bit like a pun: making a perfume for a younger audience which smells like unripe green grapes. There is even a La Fontaine fable served to French children at school which epitomizes this idea.
We recently and in the past, talked about bitterness in perfumes, a sensation which is seldom cultivated because it is too far off the pleasantness bias of perfumery. In Rose Amazone, there is no bitterness but a comparable range of undocile sensations: acidulic, tart, sour, mustardy, metallic. Yet, in the end, the perfume runs a full circle and goes back to the original Amazone before its 1989 relaunch: it's comfortably ambery, fruity, classic, even a bit bourgeois.
You can appreciate the "study" and "sketch" aspect of the new composition, which ironically, once more makes a reference to the notion of manga meaning "sketch" in Japanese. Jean-Claude Ellena is no stranger to this form of sketch-like studies in his perfumes which appears even in his more mainstream creations like in Eau Claire des Merveilles, not to mention the Hermessence range. His work on youth in perfumes can be seen with Baby Doll by Yves Saint Laurent, and obviously to his nose, youth smells of grapefruit, citric smells and young rose in general. He may even have an instinctive propensity to create young perfumes as it turns out that Un Jardin sur Le Nil was critiqued by the Hermès evaluation team initially as smelling too much like it was made for a 16-year old.
This re-interpretation of a classic of perfumery shows a perfumer at work and manages to feel edgy despite the youth-oriented exercise. This is a re-interpretation which however falls on its feet in the end. Like a cat, it may discombobulate up in the air but ultimately, it does not change the fundamental alignment of the skeleton of the perfume. To this reviewer, because of this, it feels in the last stage, the most memorable one of perfumery in principle and practice, like nothing has changed.
I think that you want to step away from a new composition with the sensation that something did change in the end. Because of this psychological effect, your last, perhaps most durable impression of the perfume is that it reaffirms a bourgeois sense of unmovability and order, rather than true upset of a perfume formulation. In the end because of the circular structure of the composition, it feels like the perfume is really meant for those who wore Amazone rather than for their prospective descendants. A mother and daughter or son wearing the two perfumes side by side will smell practically the same after a couple of hours. One would have wished that the drydown were more circuitous, less of a landing one one's own two or four feet. Apart from that, this is an examplary exercise in how to change a fragrance without changing anything in the end.