The Voice TV Series in France to Launch Duetto of Perfumes (2014)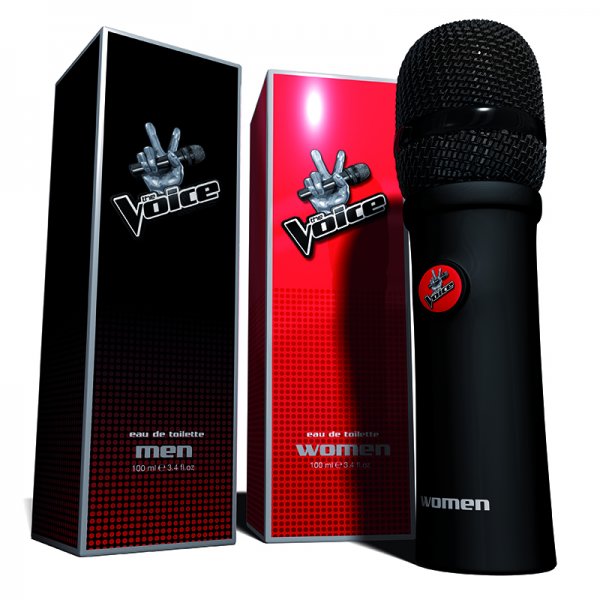 The Voice franchise in France will launch a duet of perfumes called The Voice Men & The Voice Women from December 15th, 2014...
The alliance of show-business and perfume has been a thriving one first thanks to celebrity figures but also more recently via movies- and tv series-inspired fragrances.
In France, this category of perfumes is less well developed than in, most obviously, the United States, where popular culture has been prized and even dignified by the imprints of major 20th century artists like Warhol, Lichtenstein, or Jeff Koons who put it in museums.
It seems however that the French are catching up and catching on to the possibility that it might not be a bad idea to consider perfume as not just haute and classical, but of the moment and popular by the numbers.
The Voice Women eau de toilette has notes top notes of citruses, a floral heart and musk and vanilla in the base.
The Voice Men eau de toilette has a top note of bergamot followed by spicy nutmeg and cardamom; the base is of amber.
Perfume bottle mimics a microphone - what else?
They will be distributed by Ahhrena in Intermarché stores. The group's other mass distributed perfume and beauty brands are Sex & The City, The Voice, Alain Delon, Jaguar et Fun'Ethic.
The Voice 4 is expected to start on TF1 tv channel soon, date TBA. Judges are French celebrities Zazie, Jenifer, Florent Pagny and Mika.
Take note - France might just be starting to love pop culture as much as perfume.
Price: 19,90€.
Via Magazine-Avantages.fr; Adhrena