Karl Lagerfeld Paradise Bay for Her & Him (2015) {Perfume Shorts (Reviews)}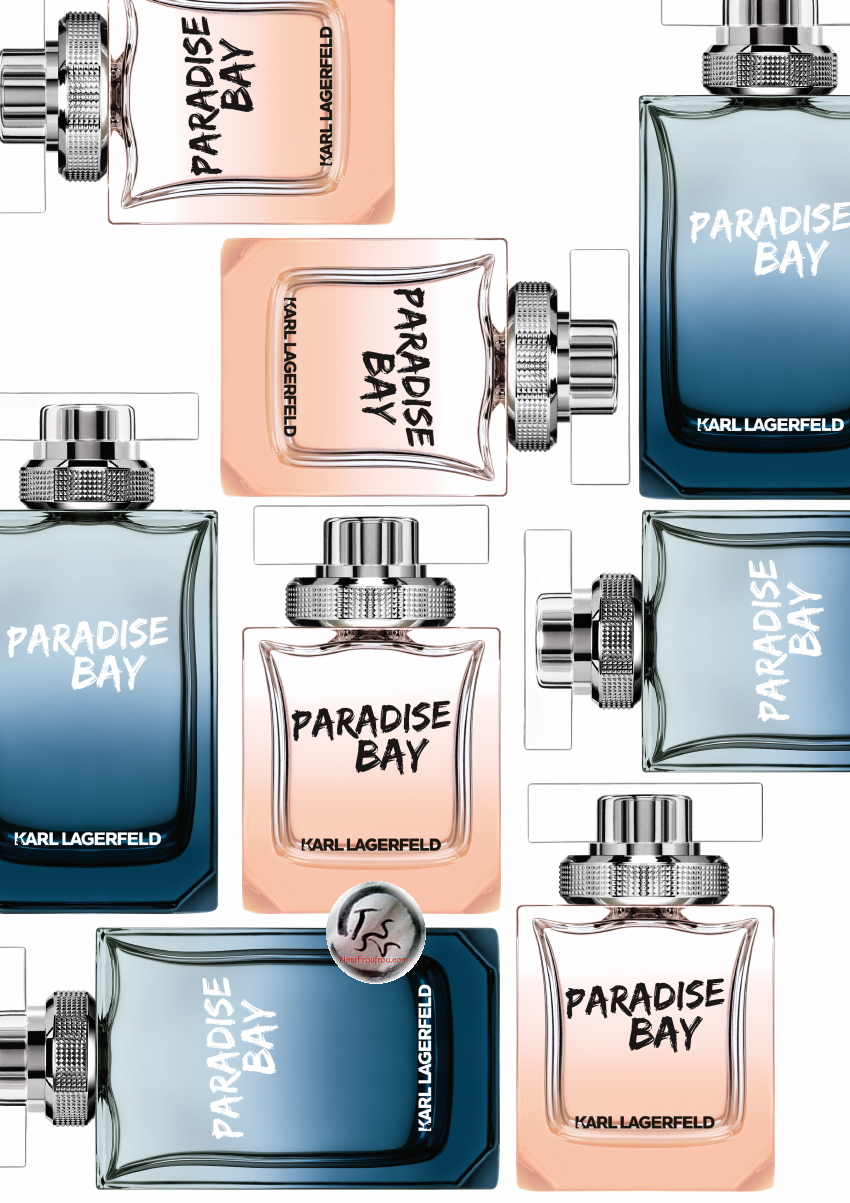 Courtesy picture
Fragrance Reviews
Paradise Bay for Her and Him are the two new ephemeral editions of Karl Lagerfeld Femme and Homme issued last year. Named unwittingly after a bay in Antarctica, the joke is on us as the two fragrances do not aim to come across as glacial summer fragrances. For the brand, their names refer to an abstract, ideal bay located "at the end of the world". Serge Majoullier and Cécile Maton of Mane sign a beach-appropriate version of the original while Jean-Christophe Hérault of IFF adds a drift-woods twist, and more, to the original. In an ideal post-feminist world, you can say on International Women's Day that the men's version is better, and so that you will choose to wear the latter thanks to its olfactive qualities rather than for any other reasons constrained by gender...
Paradise Bay for Her
The eau de parfum opens on a slightly synthetic-feeling peachy tone - it feels artificial, but not unpleasant - soon seguing into an overripe accord of fruits (pineaple, lychee) and jasmine left for too long to stand in the tropical sun. A nuance of nail polish underscores the tangle of fruits and flowers (jasmine, rose, magnolia). Paradise Bay appears to be fruitier, more vanillic and overall sweeter than the original. If you told me it is meant to compete with the Escada summer releases, I would not be shocked.
After the different main notes appear, the scent settles into a rather sensual mess of tropical fruits. Only the aldehydic strain makes the composition not be an Escada cocktail sipped on the beach. On second thoughts, the jasmine too is a tad too animalic and indolic to belong in an Escada scent for spring-summer. The warmth of ambergris is contrasted with a fresher watery note.
Paradise Bay for Her can certainly be catalogued as one of those so-called "beachy" perfumes dedicated to the love of the sea in the summer. It expresses this thanks to creamy, tropical floral notes, solar notes, and ambergris.
The drydown is bit on the flat side and would have required more complexity in order to make the perfume truly and reasonably more alluring even for a one-off summer flanker. As it is, it smells of a savings bank in that part of the composition; it also smells too much of red fruit candies and a white sugar spill.
Paradise Bay for Him
The eau de toilette opens on a typical masculine, fresh, drift woods accord, with a hint of lime and the coolness of spearmint. It smells fresh and efficient like a business man taking a break under a luxury beach hut in Brazil, without being able to really break away from work. There is a little coquettish note of powder thanks to the fougère accord.
It mostly smells of wet woods, squeezed lime, breezy air, salty wind, and ambergris, with a touch of rosey geranium. When you get there, it also evokes a luxury soap. A hint of coconut helps cream the base notes whose lasting finish is leathery. The further the fragrance develops, the better it smells even in the long-distance part of the drydown. This is a good marathonian of a perfume.
While the feminine version of Paradise Bay is wanting in the final stages of its development, the masculine version is much more satisfying in that final impression meant to linger on. This is a wise choice. It is best - given the alternative - to offer a more pedestrian opening but to carefully craft a good drydown. Not only does it leave you with a lasting impression which is positive, it also then plays better with that personal element you can bring to the olfactory table: your skin scent.
Forgoing gender barriers, I prefer the scent of Paradise Bay for Him on my skin. It smells very good, past the initial olfactory stereotypes of the man slightly too busy to enjoy life. It is not original, but it is suave and knows a thing or two about skin harmonies. On the other hand, The feminine version of the same escapist composition is more interesting in the beginning than in the end where it meets all too soon an early death called blandness and olfactory thinness.
Fragrance notes are listed here