Room 1015 Rock 'n' Roll Riffs: Electric Wood, Atramental, Blomma Cult (2015) {New Fragrances}
Courtesy picture © Room 1015
Room 1015 is a new fragrance label founded by a former pharmacist-turned-musician, Dr. Mike, whose love for rock 'n roll, tattooed skin and skincare have merged seamlessly it seems into an idiosyncratic entity the shape of a perfume house with Electric Wood, Atramental and Blomma Cult...
Inspired by a radical rock esthetic, the ultra-polished looks of only-seemingly violent personas, the smell-good aura of celebrities and the flashes and spotlights on stage, Michael Partouche composes full-volume fragrances.
The three perfumes were composed by perfumers Amélie Bourgeois and Anne-Sophie Berhaghel of Flair.
Electric Wood is inspired by the first olfactory impression from a Gibson guitar,
"I will always remember the day i opened a guitar case for the first time. That was in early 90's, It was a Gibson. I was struck by its smell, like a powerful mix of wood, lacquer and metal... I think ELECTRIC WOOD was born that day."
Notes include AMBROXAN, CEDAR, OAK WOOD, HYDROCARBORESIN, IRIS and NUTMEG.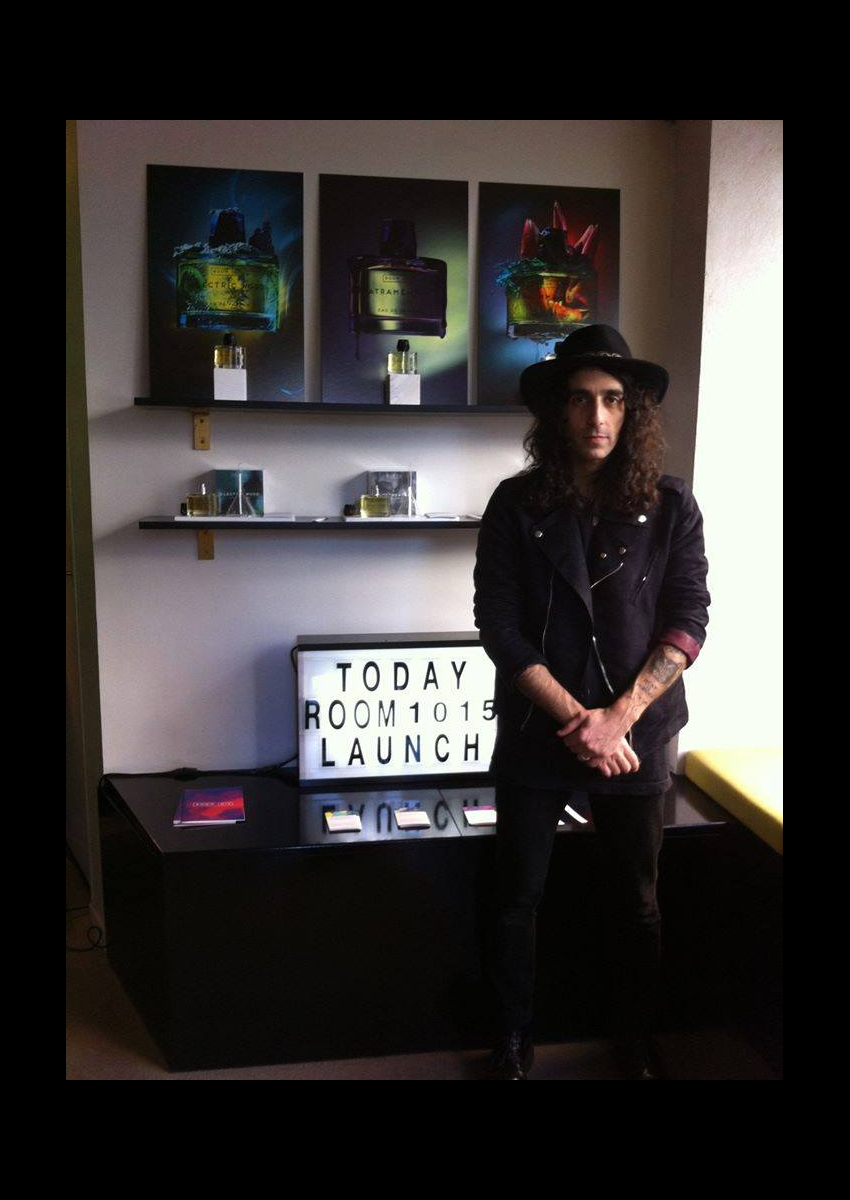 Picture from the launch event © Coutesy photo Room 1015
Atramental is about the smell of tattoed skin,
"Even though it has now become a lifestyle, tattoos remain very personal and tell the story of someone by connecting to a memory. This precious moment of the past becomes extended to lifetime thanks to ink."
Notes include BERGAMOT, BLACK PEPPER, CISTUS, CARDAMOM, AQUEOUS NOTE, SAFFRON, RESINS, SUDERAL, CASTOREUM.
Blomma Cult goes back to the 1960s-1970s counterculture,
"Blomma Cult is a floral, sensual and bewitching fragrance built around patchouli and cashmeran. It is my olfactory perception of the 1960's and 1970's counterculture movement with the sexual liberation and the rise of the hippie culture."
Notes include: BERGAMOT, LILAC, VIOLET, VANILLA, CINNAMON, CASHMERAN, PATCHOULI, WHITE MUSKS.
The new line just launched this month on March 12th, 2015 at Liquides in Paris.
Price: 120€ for 100 ml of eau de parfum.
Via Room 1015; Facebook