Best Fragrances for Coachella & Music Festivals {Perfume List} {Paris Photo} {Fashion Notes}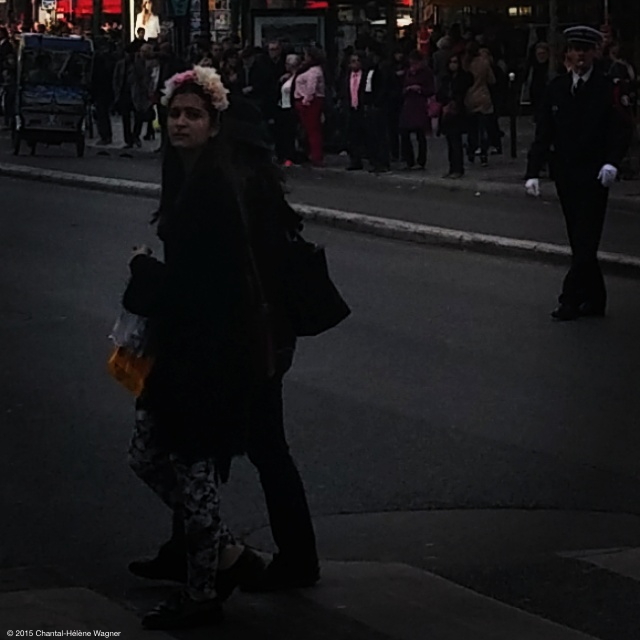 Coachella - The View from Paris © 2015 Chantal-Hélène Wagner
How To Escape the Mass-Marketing of Coachella? That is the Question
As I was perusing slideshows on Coachella street style, I have to say that in 2015 I come away from it with the feeling that it's no more about possible mad dashes of retro 60s-70s creativity, but more about a "Coachella uniform."
You're invited to contemplate a paradoxical form of conservatism and conformism: the liberal one; the cool-person one. It reminds you of those faux laid-back people who look at their fellow human beings with judgmental eyes - if you're not as tuned-in or chilled as they are...
How can you feel the style shift ? Most Coachella clothes look brand new. They seldom look lived-in or interestingly worn-out. They almost look like rented costumes maybe distributed freely by the entry gates to the music festival, by sponsors. We even caught a glimpse of a syncretic costume that would be perfect for Halloween in the springtime, which says it all. It's costume-party time. It's not music-lovers time where you show up in your usual gear, only playfully throwback.
Nobody has thought apparently of rummaging through their 20th century trunks of clothes to find authentic, hippie-age pieces. This is in part because thanks to H & M's, you don't have to. You can buy your ready-made, head-to-toe Coachella look at the fast-fashion venue. Except, good luck on creating individual outfits if you buy everything at H & M's. Reminder: you're supposed to mix; abort the total look. It makes you look more like an ambulatory ad for the store than a free-spirited individual, which is what the dress code is meant to convey, at least originally.
Attendees don't look funnily crazy anymore, but strangely aseptized. All the girls are relentlessly wearing floppy hats, lacy tops, stacked wristbands, John-Lennon sun-glasses, maxi skirts or mini shorts - the latter evocatively called "denim diapers" by beauty editors when they reach for your crotch. Don't forget the obligatory freedom-loving feathers tucked somewhere. There are fringes by the yard, which are probably never worn elsewhere. It's like beholding an army of human Coachella Barbies and Kens who can't possibly sweat under the sun because they are too self-conscious to let themselves go to that extent of realness. Be gone dirty hippies, in with the ersatz ones.
Coachella is of course also a stage theater for the celebrity industry. It has become one of the venues where you're expected to appear for timely photo opps. Note how to pique readers' interest, they're supposed to mix-and-match with unexpected celebrity colleagues.
How do they dress ? Well, some professional hands like Rihanna know the only way to call attention to herself is not to bare more, or all, but to don a purple fur coat. That's right. Be there, where you're not expected to be: fur coat in the summer temps of the desert, and bikini in Siberia in winter.
In the midst of these convoluted efforts to express the spirit of a couple of weeks of revivalist flower-child age, detached from the rest of social reality, you feel the need to pour some fragrance on such bland attempts. If aseptic looks could be made a bit better, it would be thanks to perfume which can make the scene come more alive.
Patchouli
An authentic perfume from the 1970s in the spirit of the flower age is Patchouli by Réminiscence. It's still around. If you want a more recent twist on it, go for its Eau de Patchouli which is deliciously gourmand and lighter.
Still in the patchouli zone, we recommend also Le Vrai Patchouli by Melvita; Florame Patchouli; and Solinotes Patchouli.
Musk Oils
If you had to make up your mind quick, I'd suggest the sweetness of Jovan Musk Oil; the fresh dirtiness of Kiehl's Musk; the softness of Auric Blends Egyptian Goddess.
Incensey Florals
Atelier Cologne Rose Anonyme is a great rose perfume with a headshop-y vibe. Comme des Garçons Daphné Guinness is the scent of the headshop. The Body Shop Smoky Poppy smells like YSL Opium from the 70s and reportedly, really does have a reference to the scent of the opium trade.
Sunny Fragrances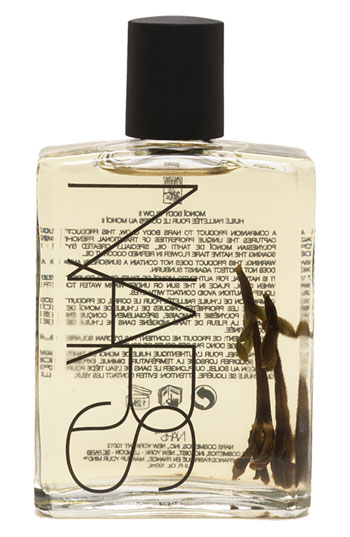 Jean Patou Chaldée; Mon Petit Paradis Bain de Soleil; Guerlain Terracotta; Monoï Tahiti; Nars Monoï de Tahiti Body Glow II; Bulgari Aqua Divina; Estée Lauder Bronze Goddess.
Fresh Fragrances
Bottega Veneta Knot; Penhaligon's Orange Blossom; Cartier Déclaration L'Eau; Hermès Eau d'Orange Verte; Serge Lutens Laine de Verre; Kenzo L'Eau.
Fragrances without Alcohol
For those of you who are cautious about the possible interaction of sun and perfume on your skin, you can opt for some alcohol-free options. Besides the musk oils, Monoï Tahiti and Nars Monoï de Tahiti Body Glow II cited above, other options include Mustela Musti Eau de Soin, a French baby fragrance now available at Sephora in the US. Fresh has a Rose Floral Toner as well as Andalou Naturals, with their 1000 Roses Floral Toner.
If You Wanted to Pull a Rihanna Stunt, Perfume-Wise
If you want to imitate Rihanna and go contrarian, you can wear fragrances such as Bal à Versailles or Sisley Soir de Lune. They are perfectly great fragrances, just not really in-step with a boisterous music festival out in the desert of California.