How Companies are Leading the Way to Olfactory Trademarking {Fragrance News}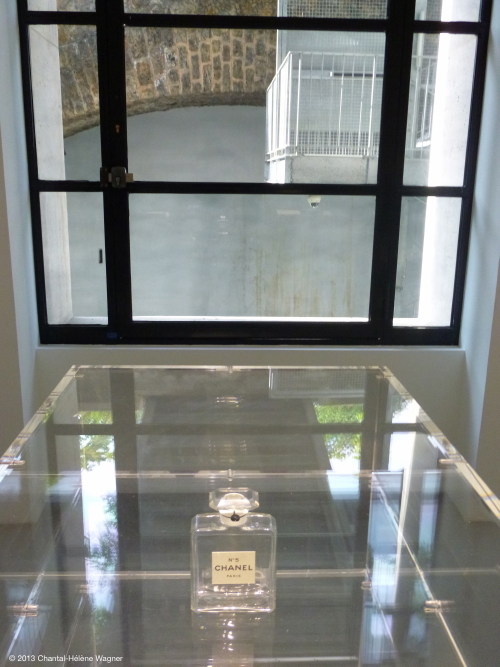 Empty Chanel No.5 bottle with their trademark packaging black border accidentally showing in the Palais de Tokyo windows © 2013 Chantal-Hélène Wagner
Olfactory branding is one of the marketing identity strategies used by companies in their advertising efforts to distinguish themselves from competitors and generate loyalty from their customers. More recently, as the practice has become more widespread, more and more brands have sought out to register their signature scents at the US trademarks office...
If successful, a business will be copied. It is to prevent the theft of signature olfactory blends, which can be powerful emotional triggers and cues for attachment, that some brands are registering their olfactory logos.
Last fall, Verizon Wireless, the nation's largest cellphone carrier, secured a trademark for a "flowery musk" that perfumes its marquee "destination stores" in Boston, Chicago, Houston and the Mall of America in Bloomington, Minn.

The scent distinguishes Verizon's "unique retail stores from other communications and consumer electronics retailers in an increasingly crowded field," the company's lawyers told the trademark office in August.
The US trademarks office is evolving not just to include scents but more generally to consider a more diversified sensory dimension for delivering patents,
It used to be that only words, slogans and designs were trademarked. But protected property has evolved to encompass sounds (like the Old Spice whistle), textures (such as a wine bottle that feels like velvet), and shapes (the Oscar statuette, for instance).
For perfume lovers however, it is worth noting that to have a chance of getting registered a fragrance blend has to serve no other purposes than branding. If a perfume was meant to be worn like fashion or reflect an artistic endeavor, then it can't be accepted.
Read more at Eau de Fracking? Companies Try to Trademark Scents