After the Paris Attacks, Looking On: Paris outragé, Paris brisé, Paris martyrisé, Paris endeuillé, mais Paris aimant {Paris Street Photos}
Kid Looking On After Getting Back Inside Car After Visiting the Attack Site of Le Carillon © 2015 CHANT WAGNER
It is very hard on intimate level to talk about what happened with the Paris attacks on November 13. But it's been immensely helpful to be able to participate in informal gatherings of public remembrance and communion on the streets of Paris near where the attacks occurred...

Offering Sambac Jasmine & the Colors Noir, Bleu, Blanc, Rouge. The tricolor French flag has become a new, rejuvenated symbol of national resistance and pride. 2 years ago, it would have been still considered mostly toolish and outdated to flaunt it. © 2015 CHANT WAGNER
Pray for Paris Shoes - Wind of Liberty Lifts French Flag - Le Petit Cambodge. After the attacks, Parisians started thinking about what best shoes to wear in case they needed to sprint away from a terrorist attack. These urban shoes are perhaps looking a bit like museum pieces in this context, momentarily and meaningfully. © 2015 CHANT WAGNER
Aftermath at Le Carillon. Parisians have instinctively filled bullet holes with flowers. © 2015 CHANT WAGNER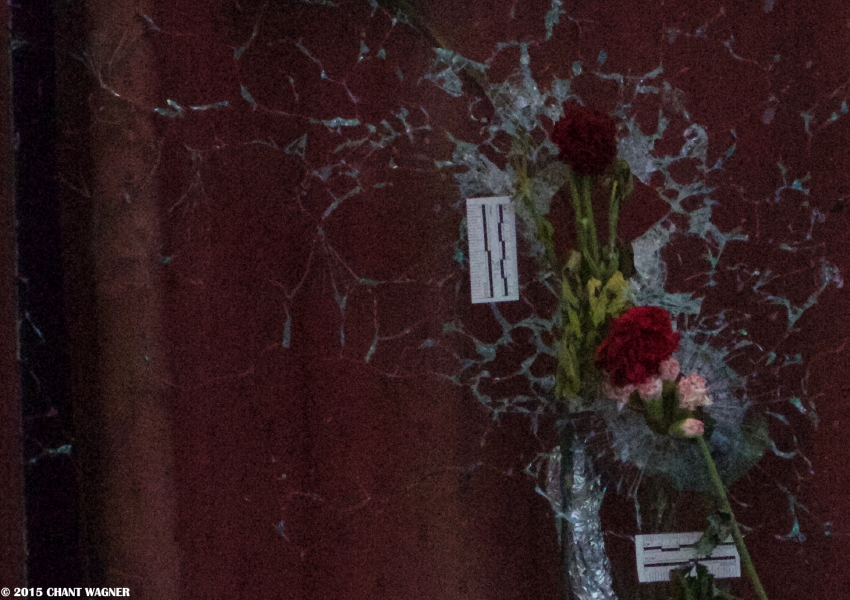 Flowers in Lieu of Bullets - Le Carillon © 2015 CHANT WAGNER
Parisians are looking on but also lowering their gaze, looking into space, and crying, such was the psychological chock endured by those who were not even implicated in the events physically or closely. The explosions have reverberated in invisible and subtle ways to create hurt and despondency, breaking hearts. Here are some of the scenes you could witness on the streets of a city most Parisians love with all of their being.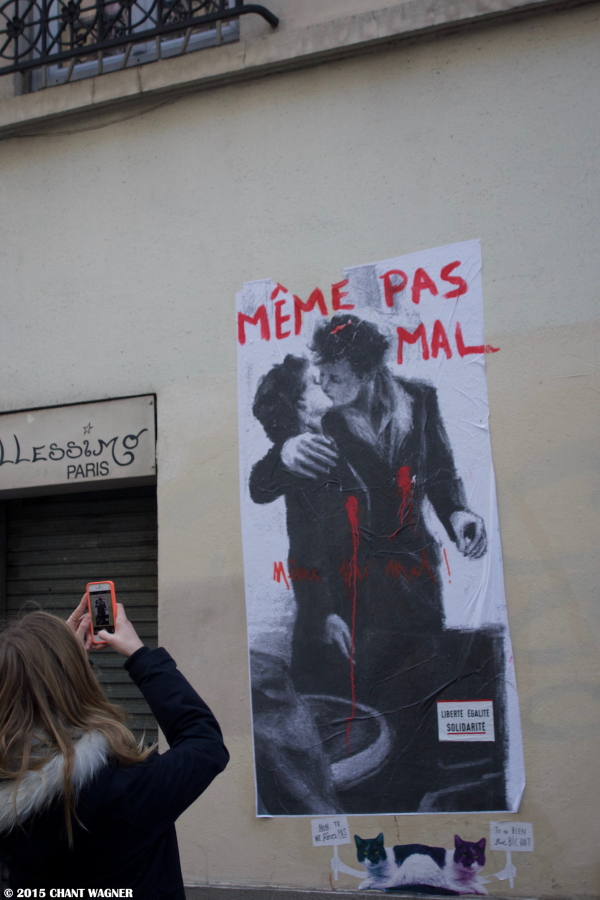 "Même pas mal" (It doesn't even hurt) (editor's note: yes, it does) - Rue Bichat. The street art reprises a famous photography by Robert Doisneau, "Le baiser de l'hôtel de ville". Alas, in reality couples were actually killed on November 13. © 2015 CHANT WAGNER
For those who don't know, the title in French above is a paraphrase of a quote by Général Charles de Gaulle who said it in 1944 upon the Liberation of Paris, originally clamouring: ""Paris, Paris outragé ! Paris brisé ! Paris martyrisé ! mais Paris libéré !"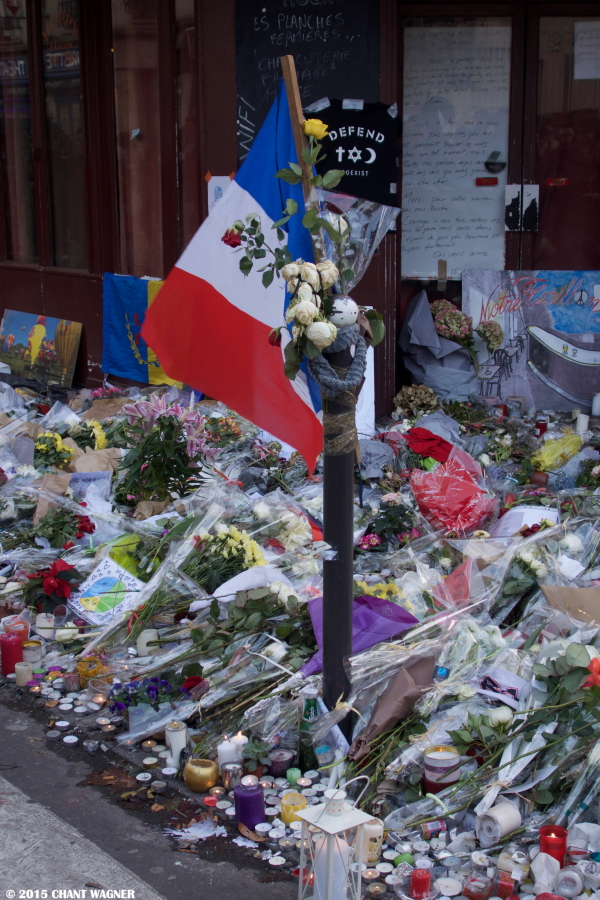 Kabyle flags have been added as the owners of the restaurant hail from Kabylia in Algeria, a predominantly Muslim Sunni region. © 2015 CHANT WAGNER
Casa Nostra © 2015 CHANT WAGNER
A young woman looks on and then into space in a florist shop facing Casa Nostra © 2015 CHANT WAGNER
In front of Le Bataclan a poster reads "F**k Djihad" © CHANT WAGNER
Remembering those who were killed at Le Bataclan. Families had sometimes to experience the ordeal of looking for several days for their loved ones before learning that they had been killed. © 2015 CHANT WAGNER
What is a leitmotiv visible to all those who look is that Parisians and Paris lovers are replacing savagery with verbal defiance at most - literature and language expression are all important in France - but essentially, the law of love, a feeling on which the history of the city has been built across the ages. Bullet impacts are filled with roses and carnations, hearts are drawn everywhere, kids are brought to learn that when bullets kill and maim, a thick carpet of flowers and heartfelt wishes will replace them rather than a spirit of retaliation and hatred.
I love you Paris - Paris, je t'aime. You've given so much, not only to its inhabitants but to so many worldwide.
Icons, Post-Paris-Attacks © 2015 CHANT WAGNER