The Strongest Smell Post 11/13: Burning Candles & Lilies {Paris Photo}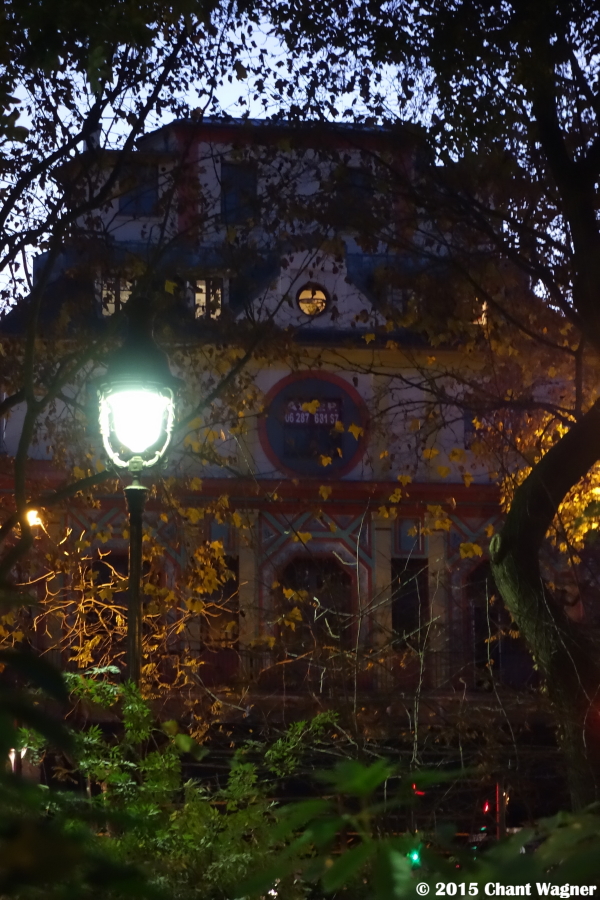 Le Bataclan, le 15 novembre 2015, less than 2 days after the attacks © Chant Wagner
What can an olfactory and beauty blog say, in a specialized manner, about the harrowing events of the night of November 13, 2015 in Paris? We could point out that the next day, there was an urge, after taking the pulse of Paris, to go to a beauty store in search of pampering and comfort. There you could peruse face and body oils, essential oils but also meet the intense gaze of a long line of shoppers all thinking of the same thing while pretending to devote their attention to beauty rituals...
Chocolate, candy and pastry stores seem to be the necessary sweets pharmacies of the moment. Those shops are open and full, even if Sephora and H&M nearby have decided to pull down their iron curtains on the usual Saturday crowds of shoppers, who are mostly missing in action.
You could also spot the new body attitude: telephone hunching. People are literally hunching over their smartphones building an invisible protective bubble, hanging onto their telephones like never before in an attempt to communicate or gather information. The next day, you spy Obama and Putin on TV hunching over a coffee table in Turkey, in an intimate conversation about world security with two interpreters, one kneeling down, the other drawing an arch with her back. They too, you think, have instinctively adopted the same body language of intense communication.
Back in the beauty store, a man is standing in front of makeup accessories expressing a quiet sense of astounding over the phone - you overhear his pressing tone "..they want to bring France down on its knees..." You can tell that Parisians are in a state of "sidération". They can hardly believe that what took place, really did take place. After all, aren't the French and Parisians in particular standard-bearers of joie de vivre, subtle intellectual hedonism - pig-headed but always on the side of and game for any expression of the douceur de vivre? The culture shock is therefore all the more violent.
In a way, you feel, the terrorists have hit at innocent children, not just because the victims are young but because there is a spirit of gentleness in French culture, especially well developed where conviviality and art of living are concerned, which has been anihilated in a senseless fashion by brutes, barbarians who did not get how much effort and history are needed to become that soft and tender - and unarmed. Parisians love perfume, not war. Most French people can't recognize the sound of a real shooting versus that of fire crackers. The terrorists have shot at lambs, you think.
Mostly, the store and street atmosphere is quieter. Streets are half-deserted even by the police in this central area of the capital. They must be elsewhere more urgent. Parisians have been told to stay at home and besides, a lot of the information is best had via digital and TV screens.
Those are some of our impressions on the day after the Paris attacks. The photos we show here were taken less than two days after the attacks at Le Bataclan.
Devant le Bataclan le 15 novembre 2015 © Chant Wagner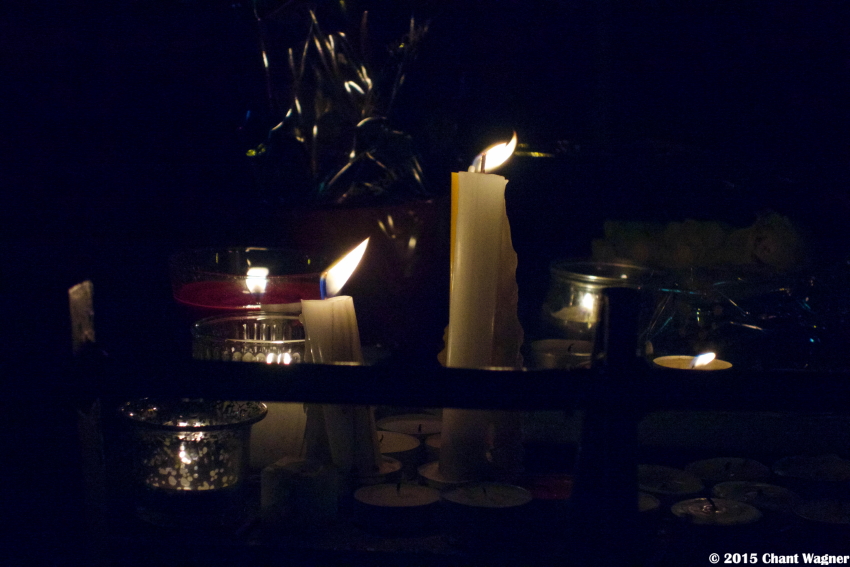 In Memoriam les morts du Bataclan et des attentats de Paris © Chant Wagner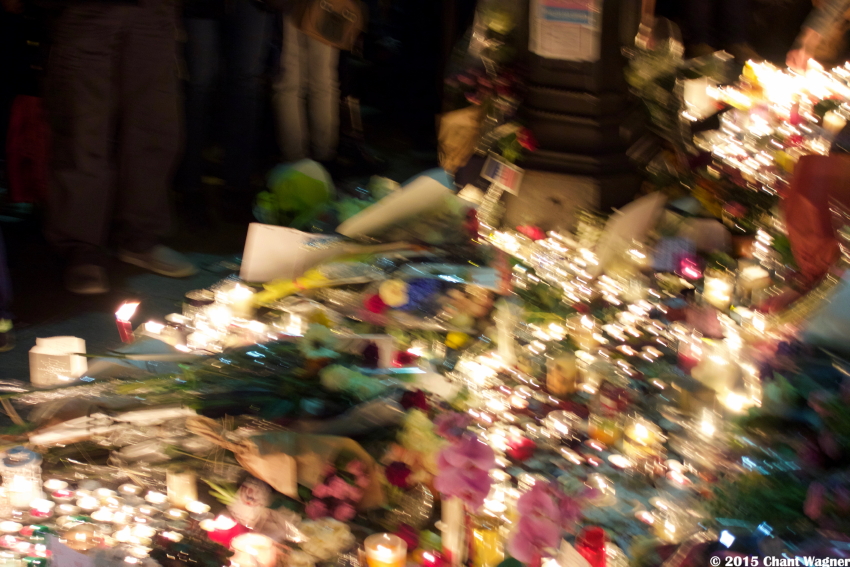 Bougies ardentes près du Bataclan © Chant Wagner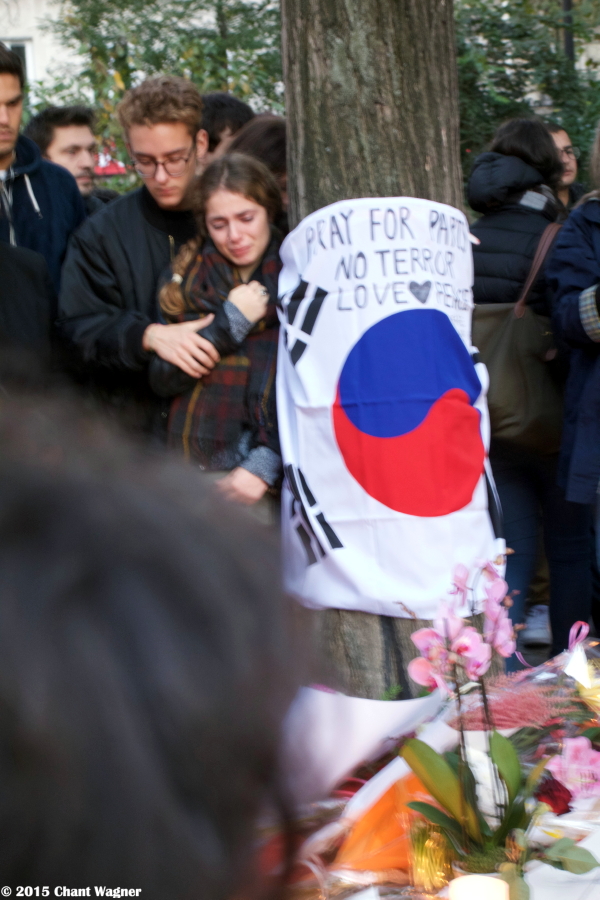 Une jeune fille en pleurs près du Bataclan © Chant Wagner
Praying, Crying, Being in Shock after The Paris Attacks of November 13, 2015 © Chant Wagner
Une odeur de recueillement - Un Bouddha de cire près du Bataclan © 2015 Chant Wagner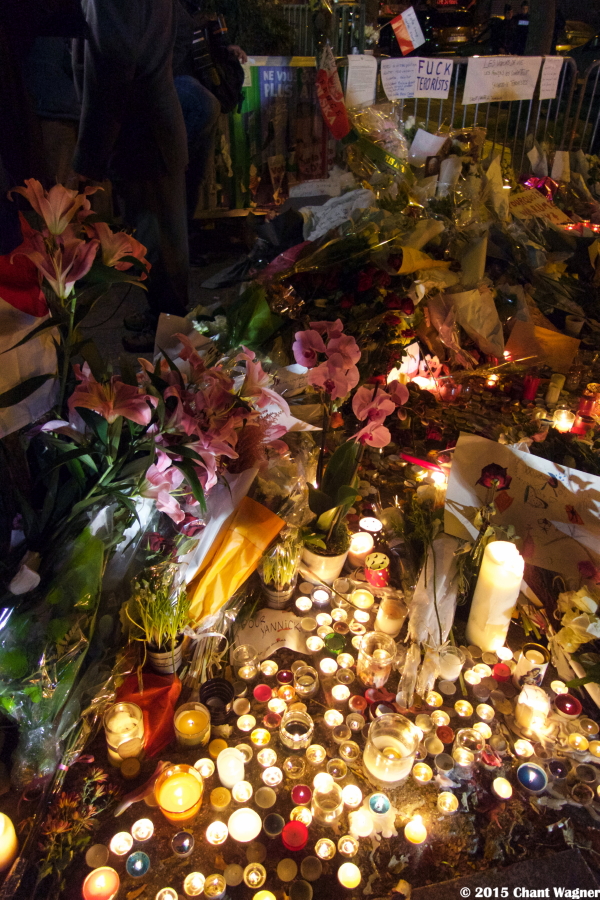 I took this photo while feeling washed over by the scents of lilies and burning candles (Smell and Shoot) © 2015 Chant Wagner
The picture featuring pink lilies and burning candles epitomize the dominant smell of the day: I took it while feeling washed over by an olfactory wave mingling heady floral indoles and the overpowering scent of melting wax.
If you ever doubted that the French retain a sense of civil religiosity, there it is, revealed by those smells: powdery, sweet lilies and burning candles are the scents you will encounter in a church during service.