Joop! Homme Sport (2016) ≈ Hail to the Chief - Or Rather Your Bikini Line {New Fragrance} {Men's Cologne} {Perfume Images & Ads}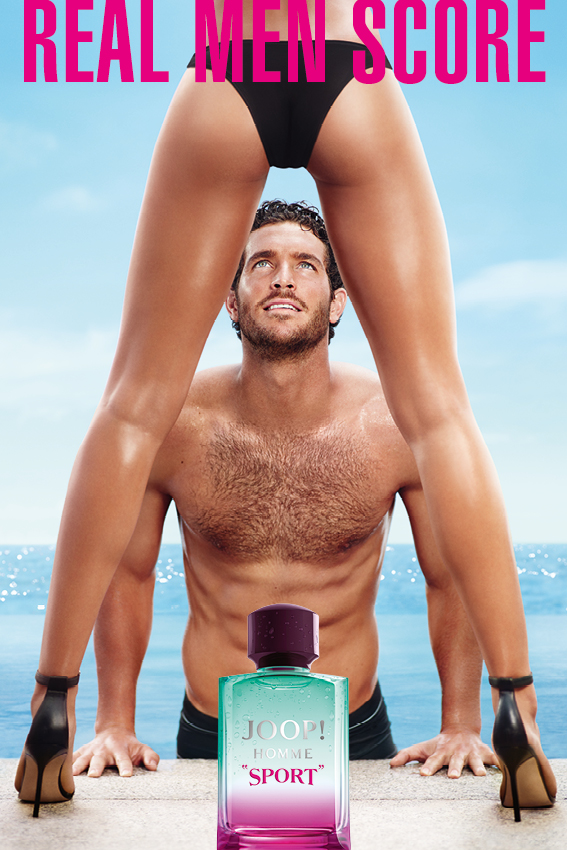 Hail to the Chief - or rather your Bikini Line
German fashion label Joop! have released a new flanker to Joop! Homme (1989) called Joop! Homme Sport the third offering in "the three blends of seductive mastery" devised by the brand in partnership with Coty Inc; it benefits also from an ad campaign to rival Axe's, only less funny...
Designed to make you look up - and make the skin of feminists crawl - the advert featuring male model Justice Joslin reads "Real Men Score" making him look, not inside the eyes of a woman, but her bikini line. (Remember the anti-sexual-harassment spoof in which actress Marion Cotillard made the case for wearing "Forehead Tittaes by Janae"?)
According to the brand, theirs is a spirit of subtle and sensual chemistry,
"JOOP! Ambassador and model, Justice Joslin, has been the face for the JOOP! Homme, JOOP! Homme Extreme and JOOP! Homme Sport campaigns. With his lean and effortless physique, he is the ideal emblem for the brand's spirit of subtle and sensual chemistry, and the campaign fuses the three blends of seductive mastery into one campaign to show how the dynamic range reflects men's needs."
Featuring Justice Joslin, Rocky Barnes, Madisin Bradley, and Simone Villas Boas - and the archetype of the needy man
The jus opens on revitalizing mint, sweet bergamot and ginger leading to a heart showcasing "the elemental splash of the salty skin accord and a zesty serving of orange blossom while the base rests on tonka bean.
The advertising campaign seems to have been devised by a crew of teenagers with raging hormones and a stack of magazines issued by the porn and charm industry, which actually might be more the envisioned target audience for the cologne. Sometimes, like in this case, you have to wonder if the perfume industry is not flirting with being a branch of the sex-worker industry. The codes are getting a bit crude. In light of real societal issues - like precisely, the ones which took place in Cologne, Germany - you might also wonder if playing with images of and ideas about seduction a certain way is not simply offensive.