Histoires de Parfums This is Not a Blue Bottle (2016) {New Perfume}
This is Not a Blue Bottle by Histoires de Parfums
French art-focused perfume label Histoires de Parfums have issued a new unisex fragrance called This is Not a Blue Bottle / Ceci n'est pas un flacon bleu, which plays with the Surrealist game on the distance existing between an object and its representation. Sephora in the US have decided it was mor convenient to rename it as « Not a Blue Bottle »...
« This is a brilliant message of abstraction. From the elemental to the experimental, an expression of an olfactory hallucination, a magnetic attraction, a sensual tatoo reading pleasure on the skin, an excitement of the senses, and the vibrant rhythm of life, love and freedom. »
The brand could be seen as couching in arty terms what most mainstream perfumes will intimate : wear me to know me, in relation to you. In other words, this is an allusion to skin chemistry. Gérald Ghislain the founder of the house said,
"I have always felt that there is no rhyme or reason how scent makes us feel. It's a magnetic and primal sense. I made Histoires 15 years ago as a concept brand to tell the stories of exceptional individuals. I made This is Not a Blue Bottle as a pre-concept, something that is only emerging, whose story does not exist until it is on the skin."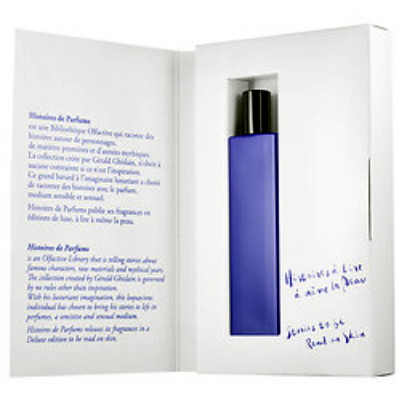 The 0.5 fl oz / 14 ml Nomad Format for the EDP
But Histoires de Parfums is keen on rasserting this idea, perhaps with the nuance that this i also an invitation for wearers of perfume to use their imagination actively when fragrancing themselves rather than stop at just one scenario, on one day,
"For its latest publication, Histoires de Parfums is releasing a blue page representing freedom of expression for all. This time Histoires de Parfums is not telling a novel, nor citing a tale or poem.

This blue page is yours to write as no one else can do it for you. It's up to you to be the author of your story."
The composition is an ambery aldehydic scent threading cool and metallic nuances, apparently the scent of your metallic quill, although it's also beyond words. The eau de parfum opens on top notes of hypnotic aldehyde and electric orange seguing into a hart of metallic geranium and polar honey while the base features magnetic amber, ethereal musk, and attractive patchouli.
SRPs are : 34€/14 ml ; 95€ /60 ml ; 155€ /120 ml