Advertising & Experiencing Chanel No.5 L'Eau as Direct Fragrancing // Field Notes {Perfume Images & Ads} {Paris Street Photography}

Lily-Rose Depp is the New Face of a Younger No.5, L'Eau
Advertising & Experiencing Chanel No.5 L'Eau as Direct Fragrancing // Field Notes
{The Glam Streets of Paris Project - "On the human, anthropological endeavour to own style, wherever it might be}
I happened per chance almost, although it is on a familiar itinerary, on the elaborate advertising display that Chanel has created for its new fragrance No.5, L'Eau.
The house has set up veritable perfume holes - as you would say water holes - in the midst of Paris in the shape of round perfume shrines into which urbanites can insert a hand to have it misted by an electronically activated spray of No.5 L'Eau while they wait for the next bus to show up, or as they just got off of it.
The scent shrine is lit and there is in it a graphic representing a spray of fragrance, an advance visual warning of the vigorous spraying which will ensue. There is also a sentence in French below the hollow telling you to place your hand inside the circle: "Découvrez No.5 L'Eau en plaçant votre main ici"...
Your hand, to be misted by perfume
You obediently put your hand inside and feel a generous spray of scent landing onto your skin. Your hand retreats from this alcove sheltering the descendant of a classic of perfumery, No.5, its successor for younger generations - with your hand shining in the sun - and then you take your first inhale.
I had already smelled No. 5 L'Eau, so I was curious more of the device then of the scent intially. But upon reflection, this was a good opportunity to test it amid air currents and enclosures, in turn.
A more innocent hand was also inserted inside the opening freeing designer molecules. The first words that came out of the teenager's mouth : « It smells like cough syrup » (in the original English.)
« Hmm, did I miss a link to Guerlain l'Heure Bleue the first time ? », and « he's not wrong » were my thoughts then.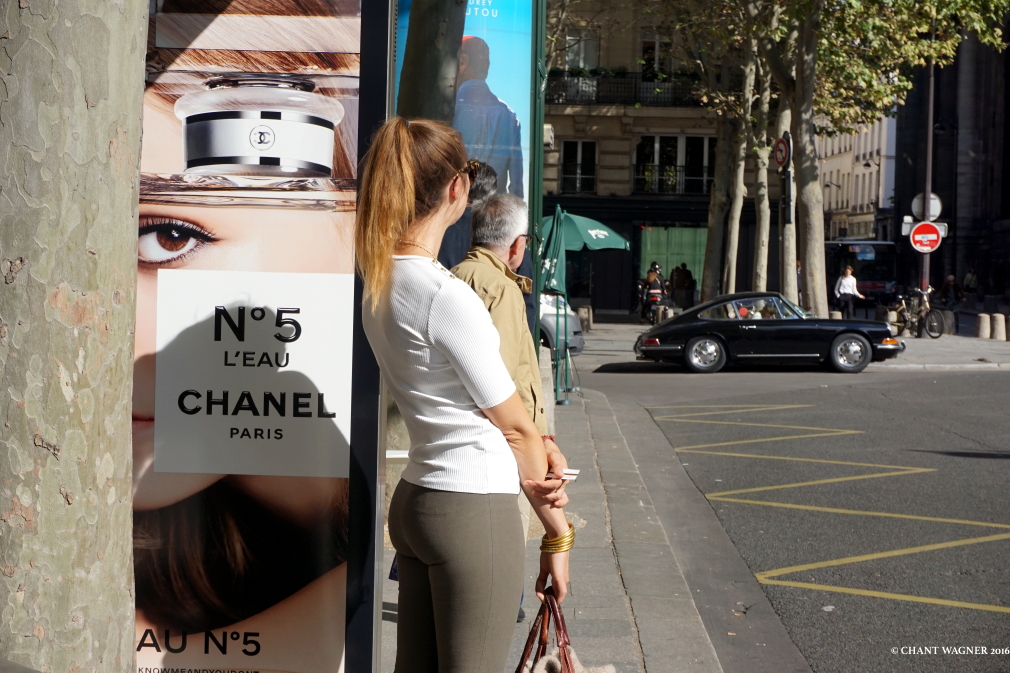 Double-checking it later, I see what's obviously missing: if the advertising installation for No.5 L'Eau has the merit of being very direct and practical for experiencing the perfume, it must be said that it is not kind on the aldehydes that are part and parcel of its personality. They tend to lose their freshness and punch thereby creating the impression of a fragrance which is heavier and more syrupy than it is meant to be. The contrast with its airier side gets a bit lost, although it is perhaps replaced, up to a point, by the breeze.
It turned out that this was a serendipitous occasion to test the new fragrance thanks to a different delivery system, which impacts its aromatic profile. The system is not perfect but it makes No.5 L'Eau be accessible and playful - and more intriguingly - be part of the city's public furniture, and hence, culture.