The New Big Label Perfumes to Attentively Inhale this Back-to-School Season 2016 ≈ Les nouveaux parfums de grandes marques à humer de très près en cette rentrée 2016 {Perfume Shorts}

The New Big Label Perfumes to Attentively Inhale this Back-to-School Season 2016 - Excerpts from My Notebook
« If maybe you do get the gist, the story remains to be told »
(French version after the jump and after the English version).
• Kenzo World : an original and optimistic composition. One gets an impression of super fruit, and even of « Super Berry ». The ultimate fragrance's note, once it's almost spent and only beginning its osmosis stage with your skin, reveals a nearly universal source of inspiration these days, Angel by Thierry Mugler. At the start, you were thinking more about a genealogical filiation with Womanity also by Mugler, albeit well-digested and re-worked. Clearly, the two Kenzo artistic co-directors Carol Lim and Humberto Leon worship Mugler but hate stupid copying and pasting.
Mood note : wear it if you ever needed more bounce in your step and positive attitude in life - yours and that of others...
• Chanel No. 5 L'Eau : a young and dynamic interpretation, suggestive of soda fizz, of one of the great classics of French and international perfumery, the No. 5. All the volumes have been lightened and the textures have been rendered transparent. The aldehydes have been updated. The iris note in the base of the perfume reveals that the aim nonetheless remains one of luxury. A « luxury, calm and voluptuousness » of rarefied sensations, which the commercial might of Chanel allows for.
The new Chanel advertising campaign dressing up the Parisian métro, which is very graphic and pop-culture-oriented, shows the brand's determination to stay on as a central and very-much-alive-thank-you reference of the landscape of beauty in France, and elsewhere.
Mood note : wear it if you ever felt like you needed more purity, transparency and elegance in your life.
• Burberry My Burberry Black : a precious and more rarefied interpretation of the original My Burberry. The rose appears to be set on a ring, seemingly made of Saxe porcelain thanks to the delicate quality of its heart accord. The composition here reinforces its classical style, as well as a timeless idea of beauty.
Perfumer Francis Kurkdjian once hoped he would become a classical dancer. This fragrance makes you think of that pure point of equilibrium that ballet can sometimes achieve.
Mood note : wear it if you ever felt the need for more refinement.
(Stay tuned for in-detail reviews.)
La Salamandre Parfumée écrit :

Advertising Campaign by Spike Jonze starring Margaret Qualley
Les nouveaux parfums de grandes marques à humer de très près en cette rentrée 2016 - Extraits de mon carnet de notes :
« Si l'essentiel est peut-être dit, l'histoire reste à conter ».
• Kenzo World : un parfum original et optimiste. On a une impression de super fruit, et même de « Super Berry ». L'ultime note du parfum en fin de souffle et en début d'osmose avec la peau révèle une source d'inspiration quasi universelle ces jours-ci, Angel de Thierry Mugler. Au départ, on pensait plutôt à une filiation avec le lait sucré océanique de Womanity, mais bien mûrie et retravaillée. Visiblement, les directeurs artistiques de Kenzo Carol Lim and Humberto Leon adorent Mugler mais ont horreur de la copie bête.
Question d'humeur: à porter si jamais vous aviez besoin de plus d'allant et de bonne humeur dans l'existence, la vôtre et celle de autres.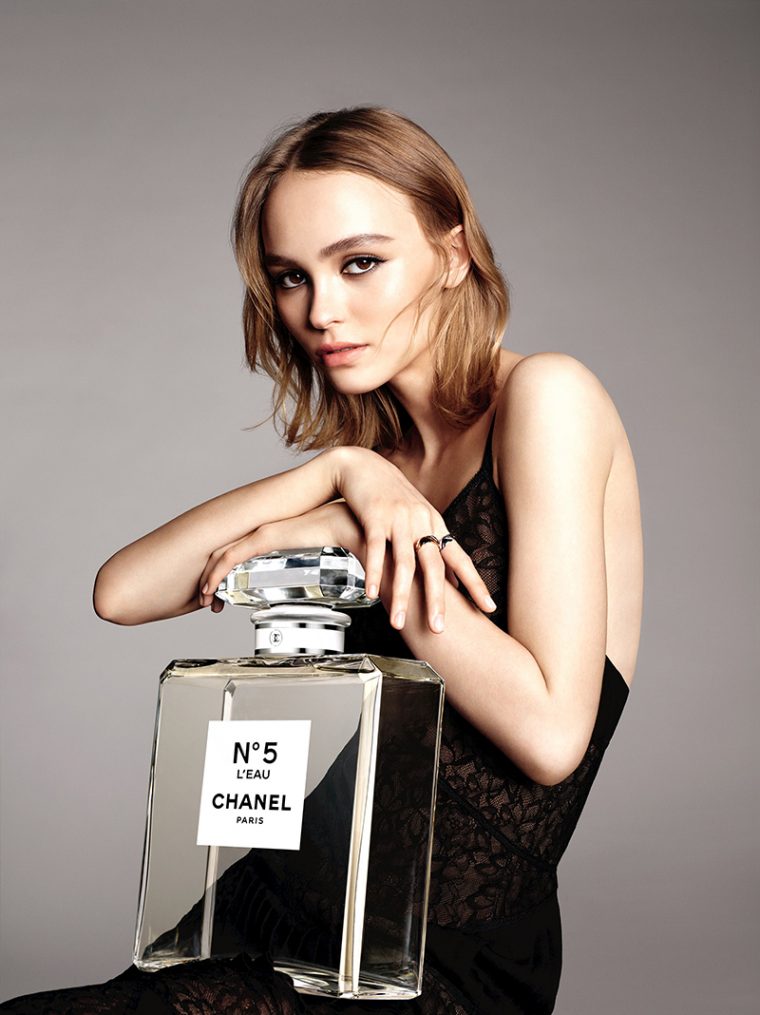 Advertising campaign by Karim Sadli featuring Lily-Rose Depp
• Chanel No. 5 L'Eau : une interprétation suggérant une boisson à bulles, jeune et dynamique, de l'un des grands classiques de la parfumerie française et mondiale, le No. 5. Tous les volumes ont été allégés et les textures rendues transparentes. Les aldéhydes ont été mis au goût du jour. L'iris dans le fond du parfum révèle que les intentions demeurent luxueuses. Un luxe, calme et volupté de sensations plus rares permis par la puissance commerciale de Chanel.
La nouvelle campagne publicitaire de Chanel habillant le métro parisien, très graphique et culture pop, montre la volonté de la marque de demeurer une référence centrale et vivante du paysage de la beauté en France et ailleurs.
Question d'humeur: à porter si jamais vous aviez un désir de pureté, de transparence et d'élégance.
Advertising campaign featuring Lily Allen
• Burberry My Burberry Black : une interprétation précieuse et plus rare de l'original My Burberry. La rose y apparaît sertie comme sur une bague, semblant de surcroît faite de porcelaine de Saxe de par la délicatesse de son accord de cœur. La composition ici renforce sa facture classique, ainsi qu'une idée intemporelle de la beauté.
Le parfumeur Francis Kurkdjian espéra un temps devenir un danseur de danse classique. Ce parfum fait penser à cet équilibre pur que le ballet peut parfois atteindre.
Question d'humeur: à porter si jamais vous aviez besoin d'un supplément de raffinement.