The Macron Synthesis, Right in the Middle - A Centrist Revolution is Taking Place in France {Paris Street Photography}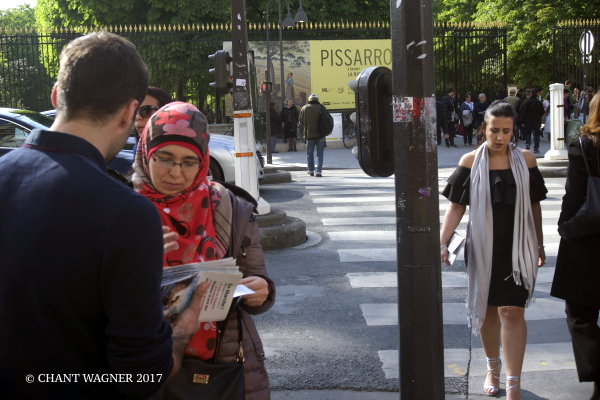 Macron so-called "Helpers" (in the original English) working the crowds in front of the Luxembourg
I remember as a student of English and Comparative Literatures at the Sorbonne discussing the lack of center in French politics with my supervisor who had brought up the topic while talking about my research on politics and literature in France and Great-Britain in the 18th century. He deplored it. As a specialist of English civilization, he felt that the French were missing out on the virtues of a balanced, tolerant and bourgeois worldview...
Anti-Macron Poster calling him disparagingly "The Heir" to François Hollande
He could only think of Raymond Barre in France who might be able to create such a center in a French society still very much marked by its extreme experiences of the French Revolution - the Terror in particular - but also the revolutions of the 19th century. Politics is one of the few serious passions of the French - and it usually involves taking sides in a forceful and polarized manner, always more or less to the right and the left, but never to the center, which probably tastes like paper, if you asked anyone brought up on classic French politics...
Anti-Macron Poster which states ironically "Vote for Macron" while representing president Hollande to stress the idea that Macron is Hollande's clone
The president elect Emmanuel Macron is however attempting just that ca. 2017. This is why his public speeches more often than not ring studiedly neutral - right in the middle where it tastes like paper - and make him sound at times robotic or like an actor from the studios of the Buttes Chaumont delivering an artificial monologue in a radiophonic way. He is not as stultified in less formal settings.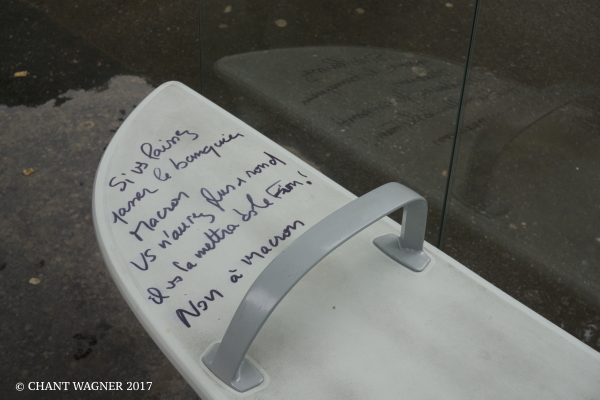 Anti-Macron Graffiti on a bus bench
Rabid Anti-Macron Graffiti Part 2
A Macron "Helper" talking with a Senior Citizen a week before the presidential election, round 2
A Macron "Helper" listening to a Senior Citizen a week before the presidential election, round 2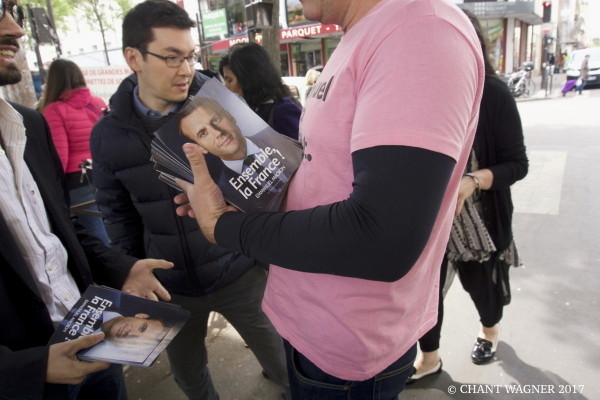 Macron Helpers Loaded with Campaign Leaflets
It's a revolution of sorts, one involving a change in mentalities. In principle, I was taught by historians of the New History school, that mentalities evolve the slowest. They represent what they call "le temps long" or "long time". What is taking place right now is actually a revolution but without the blood bath. You can feel that change is in the air. There are discreet purges. It is a bit disquieting because we are entering a terra incognita for the French.
You also know that if Macron does not succeed at his task of improving French society with his synthetic, centrist views which demand in many cases to reject softly the old world order, then in five-year time, there might be a return to the 1930s as the threat of the far-right remains real.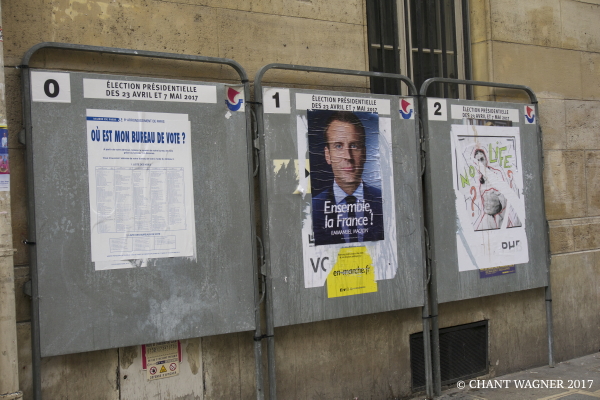 On the Day of the Election Macron's Contender Marine Le Pen had been obliterated from public view, replaced with a grotesque poster
A Young Man Makes a "No Pasaran" gesture for a photograph taken in front of a voting station in Paris on the day of the presidential election on May 7, 2017
So if it's a relief to see France did not fall for the facile brutal views of fascism in 2017, it is a tense respite as 2022 is looming ahead. It's a period of last hope and last ditch effort for the French. If Macron fails, there might not be enough hope left to counter the advent of extremisms. This is why there can't be a sense of elated victory. We have entered the era of hard-nosed realism - there is a certain amount of good will - but there are many signs of potential disruption.
Macron's speech in front of the Louvre Pyramid; left and right - TV
Macron's speech in front of the Louvre Pyramid; he is centered along the axis of the pyramid as a visible symbol of his centrism in politics - TV
Let's hope that the Centrist revolution, with its sense of complex tensions that need to be reined in attentively and harmoniously, is sincere all the way, has the energy to endure - and works. At least, we need to support it by changing our first instincts, forget to take sides, and think more synthetically. Binary thinking is more primitive and easier, closer to our survival instincts.
That's the real revolution in mentalities we need right now.