Little Girl Looking at Cheeses // Petite fille regardant des fromages {Paris Street Photography}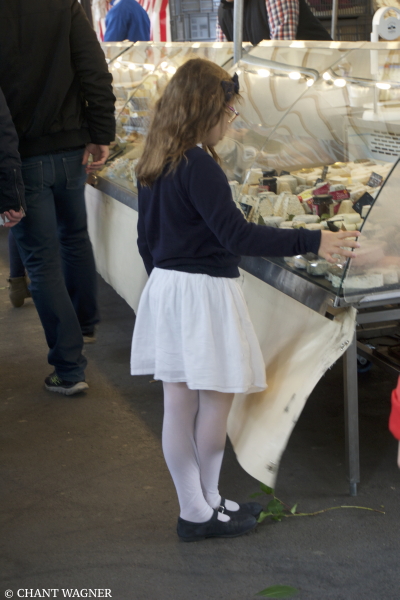 Little Girl Looking at Cheeses // Petite fille regardant des fromages in Jour de Marché © CHANT WAGNER 2017
A little girl marvels at the varied shapes and forms in a display case of cheeses on a farmers' market day in Paris...
She is dressed in an almost timeless manner. She reminds you of Sophie in Les malheurs de Sophie by the comtesse de Ségur (1858), who is always on the verge of commiting mischief.
While French cheeses - but also Italian in this case - are known for the diversity of local histories they reflect, here you catch a moment which shows you that young children are visually fascinated and no doubt educated by their variety - and of course schooled in smelling and tasting them from early on. Etymologically, "fromage", cheese in French, means "to give a shape".
General Charles de Gaulle famously said « Comment voulez-vous gouverner un pays où il existe 246 variétés de fromage ?" ("How can you govern a country where there are 246 different types of cheese?")
There are actually more than a 1000 today and some sources state more than 1600.
The French history of cheeses reveals that cultural diversity is a long-held value in France, as cheeses are linked with identity.