A Wonderful New Year 2017!!! ≈ Une Merveilleuse Année 2017 !!! Mistletoe in the Headlights {Paris Street Photography}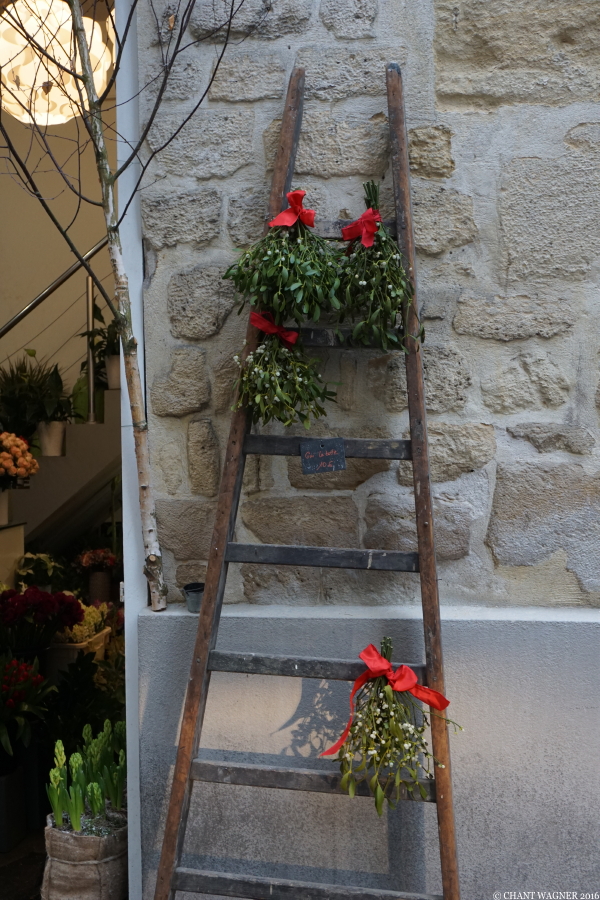 Mistletoe in the Headlights ≈ Du gui dans la lumière des phares © CHANT WAGNER
The Scented Salamander wishes you the best in 2017, whatever that might mean to you.
La Salamandre Parfumée vous souhaite les meilleures choses du monde en 2017, quel que soit le sens que vous accordiez à cette idée...
We see in the photograph of a ladder, a symbol of balance. A wall of solid stones conveys the meaning of history, heritage and continuity in the midst of the unavoidable changes of human life. And mistletoe is just pretty and smells fresh, hinting at ancient rituals. Let's respect the atmosphere, nature and outer space too.
Nous voyons dans la photographie d'une échelle un symbole d'équilibre. Un mur de pierre solide signifie le sens de l'histoire, du patrimoine et de la continuité au sein du changement inévitable de la vie humaine. Et le gui est tout simplement joli et sent bon faisant allusion à d'anciens rituels. Oeuvrons à respecter de concert également l'atmosphère, la nature et même le cosmos.
May the New Year be wonderful and balance-affirming just like this old wooden ladder decorated with mistletoe may signify by resting against a wall made of quarry stones. In the end, we all live in the same house. It better stand strong.
Que la nouvelle année vous soit belle et affirmatrice d'équilibre, tout comme cette vieille échelle de bois décorée de gui puisse l'exprimer en reposant contre un mur de pierre de taille. Nous vivons, en fin de compte, tous dans la même maison. Il vaudrait mieux qu'elle reste debout.
Fragrant Best Wishes for 2017!!!
Nos meilleurs voeux parfumés pour 2017 !!!