Guerlain Mon Guerlain Gets Insta International Exposure with Angelina Jolie (2017) {New Fragrance}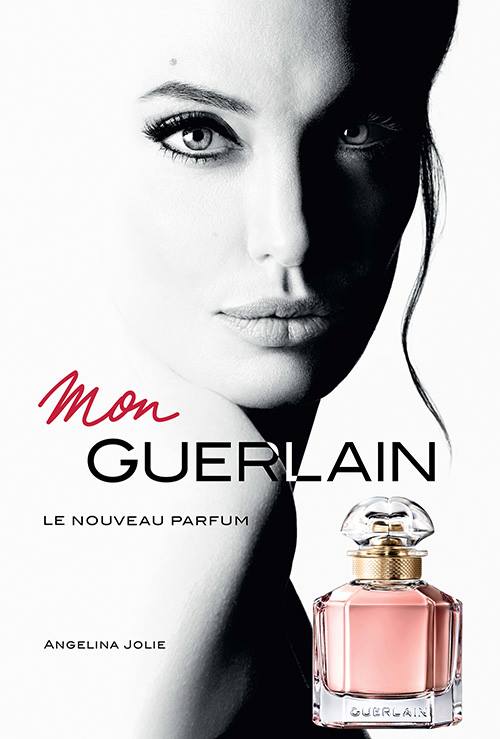 Mon Guerlain Eau de Parfum
Guerlain is going the way of Chanel by turning to a high-profile celebrity, Angelina Jolie, to add glamor and an immediate global slant to their launch, a new pillar fragrance for women called Mon Guerlain...
The composition has been unveiled as a fresh oriental. It was composed by Thierry Wasser, the in-house and principal nose. We previously evoked the negotiations behind the ad campaign.
For Guerlain, this is a further exploration of the exclusive psychological relationship a woman can establish with her perfume. In 2015, they proposed a perfume with no name except for the code-name "Mon Exclusif" which you could name after yourself, if you wanted to.
While perfume conversations are now abuzz on the Internet, it used to be that you would not talk about your personal perfume. In fact, I can certify that still today, some women prefer not to give away what they are wearing, but they are, probably, a minority. By choosing to give a general house name to the new scent, you can play with a double-entendre: it could be this Mon Guerlain in particular, or it could be another Guerlain, which you have made yours.
Mon Guerlain is a mainstream launch, of course, but aims to recapture some of the spirit of the special relationship that can develop overtime with a signature scent.
The perfumer laid the accent on the sourcing of hand-picked natural ingredients coming from different terroirs around the world.
The eau de parfum opens on top notes of Bergamot and Carla Lavender from Provence seguing into a heart of Paradisone, Sambac Jasmine from India, and Coumarin, while the base rests on Iris, Vanilla Tahitensis from Papua New Guinea and Santalum Album (Sandalwood).
The scent debuts at Bloomingdale's before rolling out globally in March 2017.