The Fifth Sense in the News: Dévouement, a Perfume to Honor Firefighters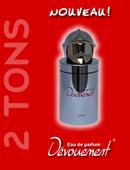 After Eau de Stilton, another interesting perfume concept is explored here. A new perfume created to embody the profession of firefighter, a profession composed of many volunteers, has been released in France. Catherine Hermet, a volunteer firefighter herself, came up with the idea. Realizing that smells that were normally associated with firefighters were conventionally thought to be unpleasant, such as smoke, sweat, and soot, she decided to develop a scent that would do justice to and reflect the beauty and moral qualities found in her profession. For each bottle sold, there will be 2 Euros donated to the firefighters' orphan foundation.

Dévouement (Dedication) is described as a fresh, hesperidic, woodsy, and marine scent.
Top notes are: cardamom, grapefruit, bergamot, orange...
Heart notes are: clove, ginger, water jasmin, tea...
Base notes are: sandalwood, oakmoss, cedar, musk...
The scent was created by a perfumer from the company Expressions Parfumées in Grasse.
"This perfume was created for all those who with courage fight every day to protect your lives, forests, and material possessions."
"Dévouement is the first fragrance from a line that is dedicated to all those for whom the profession of firefighter constitutes a passion."
The perfume is sold both online and in fire stations in France. It can be shipped to European countries and to French overseas territories. Unfortunately, they do not ship to the US.
Price depends on the destination and number of fragrances purchased.
It costs 37 Euros in France for a 100 ml bottle. A car scent diffuser, also in the shape of a firefighter's helmet is set to be released.
More information can be found on this website, Kreadis.
Source: "Le sent-bon de pompier" by Gilles Wallon in Libération of 12 May 2006.