Fragrance News: Stella in Two by Stella McCartney
Stella McCartney will issue a new binome of scents, Stella in Peony, an eau de toilette, and Stella in Amber, a solid perfume. The user is encouraged to layer the two and thusly modulate the intensity and nuances of the combination of scents. The two perfumes have been designed by Jacques Cavallier of Firmenich, the creator of the original Stella in 2003. Peony and amber are two important notes found in the original scent.
The eau de toilette in 25 ml, 50 ml, and 75 ml will retail respectively for 27, 37, and 47 Pounds. The solid perfume will retail for 23 Pounds.
Stella in Two will initially launch exclusively at Selfridges in mid-August before rolling out nationwide.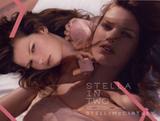 Source: Cosmetics International
Photos: The Moodie Report