Scented Paths & Fragrant Addresses: New L'Artisan Store in New York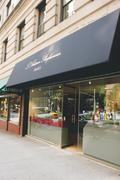 L'Artisan Parfumeur opened its third New York store on June 19 2006 on Madison Avenue and 82nd Street. A fourth New York store should open in the fall on the Upper West Side. A total of 7 New York stores are planned as well as 10 others accross in the USA in cities like San Francisco, Los Angeles, and Chicago.
As the President of L'Artisan Parfumeur US François Duquesne stated, "We're reviving the tradition of a perfumery [as] a destination where you're able to visit a [fragrance] expert in your neighborhood."
The two remaining stores in New York are located in SoHo and on the second floor of Henri Bendel.
Source & photo: Women's Wear Daily