Passion for Perfume: An Interview with Christa Patout and Stéphane Humbert Lucas of Nez à Nez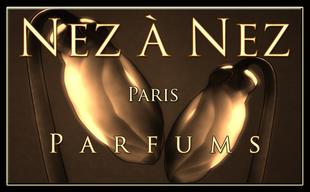 The owners and designers of Nez à Nez, Christa Patout and her husband Stéphane Humbert Lucas have opened for a us a little door into their rich universe. Creativity, sensuality, and love seem to be their guiding principles. Let me have the pleasure of introducing them to you.

TSS - Can you tell us how Nez à Nez started and what are the origins of this very recently established house? I am told that a number of perfumes were created by your father, Jean Patout.

Christa Patout with Stéphane Humbert Lucas - The adventure of Nez à Nez started a little more than five years ago. It is first and foremost the story of an encounter...
My husband is a painter and he has always been passionate about scents. I have grown up in the world of aromas and I am myself passionate about art. It was therefore very tempting to fuse our interests. Our vision of perfumes is first and foremost an emotional, colorful, and luminous one -- A play with aromas where the key word would be "levity"…I have always loved the word "levity" and it was out of the question for me to intellectualize our perfumes as we are asked to do more and more today. It is very difficult to succeed in expressing only what is necessary; we strive so that, with our essences, we move closer to that goal, just like impressionistic paintings do. The representative quality of a certain emotion that is sought passes through these large purposeful strokes of colors and impressions.

Concerning the numbered perfumes and in order to avoid any confusion, after having proposed an olfactory journey centered on my father's fragrances, Nez à Nez is now dedicating itself entirely to its own line. Our two houses, for that matter, are completely independent from each other.

Do you now work with an in-house nose or with several perfumers? Can you tell us a little bit more about it?

We have worked in close collaboration with Karine Chevallier. We wanted our perfumes to reflect what we had in mind so it was important to work with only one person who would enter our universe. During those endless briefs, Karine Chevallier and Stéphane immediately agreed upon what terms to use and their words mixed with the formulas.

I note a predilection for gourmand notes in the Nez à Nez line. Is this a conscious choice derived in part from a marketing strategy or has it rather to do with your tastes, your olfactory philosophy? For example, I was very surprised by your very fruity and sweet interpretation of the amber fragrance that Ambre à Sade is. I imagined something more animalic and dark, something much more amber-y to tell you the truth. Why, generally speaking, this preference for a gourmand theme?

We do not follow any marketing logic. I like that our perfumes be related to each other. I was mentioning colors and levity earlier – our desires for fruits come from that. For example, if you take Marron Chic…it is the cocoa bean on which we worked and not the chocolate. Vanithé, behind its vanillic olfactory pyramid remains fresh and leaves room for tea notes; Rosier Ardent (for which Stéphane was inspired by David Bowie's androgyny and sexual power) is not a gourmand fragrance; the raspberry in Atelier d'Artiste is an alibi for entering into an universe which may appear to be cold at first. It is the leaf of the fig that is emphasized in Figues et Garçons. Concerning Ambre à Sade, right behind that lively strawberry you will glide on a leather that was used in the 1920s in perfumery. I adore this type of unlikely encounter…as unlikely as the encounter between Justine and the Marquis de Sade. To go back to the topic of the intellectualization of perfumes: during the creation of Ambre à Sade we worked on the idea of making the iron of Sade's shackles be felt (a precise work on patchouli and leather). It was interesting to enter that process of dissecting the emotional, but clearly, this did not at all express our desires. We have emphasized a naïve and cuddly strawberry (Justine) and the warming leather of Sade while avoiding any heaviness or torpor. In this perfume we have strongly considered establishing a relationship between naivety and desire united in a quasi minimalist sketch. Our goal: to surprise without shocking. French women are crazy about it. Certain bases have been voluntarily enriched with balms in order to exacerbate the originality and the heart of most of our perfumes. We also work with strong concentrations because we wanted to privilege natural ingredients as they are a guarantee of beauty and development. In fact, Bouche Baie, behind its regressive notes, is overflowing with jasmine and magnolia absolutes.

What was your inspiration for Atelier D'Artiste? Why these notes in reference to this theme?

The way we proceeded with Atelier D'Artiste was different because we wanted to create a skin scent inspired by a place. This place had to be both intimidating and warm. The studio of my husband is a sanctuary of both riot and organization where soft and tough materials mingle. It is a dark perfume pierced with radiant crossing lights (heliotrope). Raspberry comes wreathing into that space to "feminize" it, but this studio had to remain remorselessly masculine and directive.


How should one choose a perfume?

Without a doubt with our eyes closed and by letting ourselves be guided by the memories and emotions it creates in us. It is like a painting, you do not acquire it to please others or because it matches the colors of a room. Perfume is a feeling.

Which one is your favorite, the one you wear most often?

I like to wear Marron Chic as well as Bal Musqué which resembles me. All our creations represent moments in our lives and to be honest, I often alternate.

What is your bestseller?

Marron Chic and Ambre à Sade, closely followed by Bal Musqué

Your establishment on rue Quincampoix, is it a symbolic gesture to inscribe yourselves in the tradition of French perfumery, the one in particular of the maîtres gantiers et parfumeurs? In what ways do they inspire you?

We have chosen a place marked by an ancient and romantic architecture (Louis XIII) as well as a strong engagement with the universe of contemporary art. Of course, the fact that this street was a cradle for the maîtres gantiers parfumeurs could only make it more attractive to us.

Is it true that you consulted Pierre Guillaume of the Parfumerie Générale to develop Nez à Nez? In what ways did his work inspire you?

Regarding Pierre Guillaume, we learned about his existence the same way you did. Our fragrances were already created and available at rue Quincampoix. We do not know each other at all. The only time we met was in my store when he came to visit me to discover our work.

Can you tell us what will be your next creation?

Coeur de Jacaranda, a mauve, woodsy scent (wood and Jacaranda flower); Presqu'il, a basket of spices and breads with flower crystals.

Finally, apart from yours, what are the 10 fragrances that you consider are musts for our readers to try at least once in their lives?

We love the playful and innovative creations by L'Artisan Parfumeur, in particular Dzing! and Passage D'Enfer; Nostalgia by Santa Maria Novella; the mythical Habit Rouge and Heure Bleue by Guerlain; Vetiver Tonka by Hermès, for its velvety quality; Bandit by Robert Piguet (the original of course) but I also like the new version; Tabac Blond by Caron; Fumerie Turque and Chergui by Serge Lutens.

Thank you very much for this fascinating interview and for sharing your insights into the world of perfumes and art with us.
(I will only publish the English text of the interview translated by myself from the French as I have decided it would be best to keep the French original for a possible future publication).
There is another post for a Nez à Nez giveaway if you scroll up the home page.