Fragrance News: More on Le Parfum (Das Parfum) Collector Edition by Thierry Mugler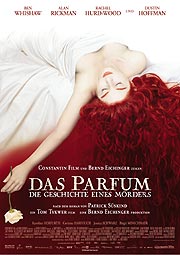 I called Thierry Mugler today and learned a few interesting things. First of all, Le Parfum will be a very limited edition of perfumes. The charming young woman with whom I conversed (thank you!) said that there would be 1300 copies of the perfume caskets issued in the world total of which only 100 to 150 caskets of perfumes would be available for retail.

Le Parfum Collector Edition will be sold by subscription only through the Thierry Mugler website dedicated to Das Parfum (you can listen to the music of the film there) and the subscription will open on September 15 2006. The price for one casket is 550 Euros...
Each casket includes 14 + 1 perfumes illustrating different episodes from the "olfactory novel" by German author Patrick Suskind. I was told that the first 14 scents are not meant to be worn, rather they evoke atmospheres, scenes of the movie and should be considered as home fragrances (parfums d'ambiance) of sorts. The 15th, Aura, which is the one meant to recapture the mad idea of the virgins' perfume is actually a "sublimateur de parfum". It was explained to me that that scent is meant to sublimate the other 14 perfumes so that after all they could be worn if you layer each one of them with the "sublimateur" whenever necessary.
The good news is that although it will no doubt prove difficult to buy one of the Mugler caskets provided you were willing to or able to do so, the general public in France will have the opportunity to acquaint themselves with the perfumes from October 4 2006 the day Das Parfum the movie will be released in France. Thierry Mugler has partnered up with the UGC chain of movie theatres and Sephora to have the perfumes diffused using special installations. The installations will be located in the entrance halls of movie theatres as well as in Sephora stores.
Source: Thierry Mugler