More on Kelly Calèche by Hermès {Fragrance News} {New Perfume}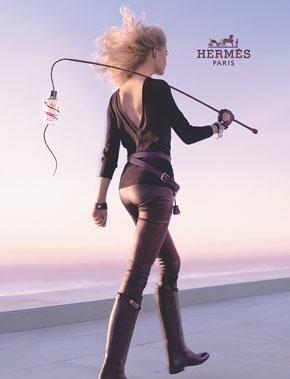 As
previously announced
, Hermès is preparing to launch a major feminine scent this summer (it is starting to sound more and more major to me) called
Kelly Calèche
. Women's Wear Daily offers new details about the idea behind the perfume........
The in-house perfumer Jean-Claude Ellena had always wanted to create a leather fragrance for Hermès, in keeping with their saddlery heritage. Kelly Calèche is inspired by their finest leathers, skins that are redolent of floral notes such as those of mimosa, narcissus, iris and lily of the valley.
Ellena was also inspired by a passage from writer Jean Giono's Jean Le Bleu "in which the narrator speaks of his departed father, a cobbler, as "making soles in angel leather."
"Jean-Claude wanted to do a floral leather," [...] To that end, Ellena combined notes of iris, mimosa, tuberose and climbing rose to create Kelly Calèche."
The fragrance will first be unveiled at the new Wall Street Hermès store on June 21st 2007 and will be distributed more widely in other Hermès stores in August. In the US, it will also be available in high-end specialty stores.
The best part is that all this marvelousness is that the new scent will be available at very reasonable prices. "The new fragrance's lineup includes a 50-ml. eau de toilette spray for $75, a 100-ml. edt spray for $110, a 200-ml. body lotion for $65, a 200-ml. bath and shower gel for $45 and a 100-ml. spray deodorant for $40. Prices are for the U.S."
Source: Women's Wear Daily