Rose Kashmirie by Les Parfums de Rosine {New Fragrance}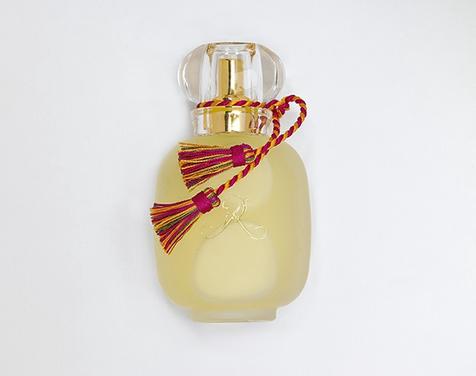 Les Parfums de Rosine
will introduce a new fragrance this fall called
Rose Kashmirie
. The perfume, described as a warm, soft, luminous and spicy rose concoction, is inspired by the colors, aromas and mythology of India. One of its main ingredients, saffron, mystically blooms from October to November. The perfume will be launched officially in October 2007 although it will be available sooner in select retail points. The fragrance was composed by nose François Robert in collaboration with the founder and owner of the house, Marie-Hélène Rogeon......
The description of the notes reads almost like a poem.
Top notes include:
Red strands of saffron from Kashmiria
Essence of Bulgarian Rose
Spicy seeds of coriander
Green peel of Sicilian bergamot
Heart notes are:
Red peonies from China
Damascene Rose absolute
Resin from myrrh or Bdellium from India
Base notes unfold with:
Woodsy oil from Nagar Motha
Black vanilla pods
Roots of Indian vetiver or Khus
Sacred sandalwood
Benzoin tears
Ambrette seeds that smell of musk
Ambergris
The flacon is the standard one used by Les Parfums de Rosine decorated this time with a silken rope interweaving Indian rose, saffron yellow, and musky green. The lozenge in the middle of the box is inspired by a motif found on ancient Indian textiles.
Suggested retail prices are 70 Euros for 50 ml and 90 Euros for 100 ml.
Read our reviews of Rose d'Eté and Diabolo Rose by Les Parfums de Rosine.
(Source: Les Parfums de Rosine press release)