Secrets D'Essences Iris Noir by Yves Rocher {New Perfume} Galore of Iris Perfumes {Trend Alert}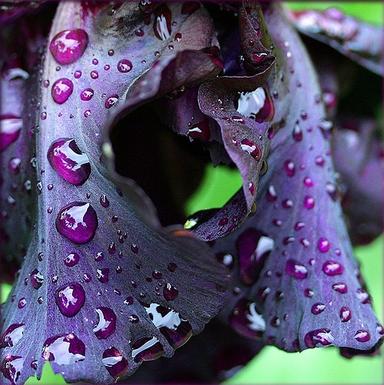 Yves Rocher
have announced that the third
Secrets D'Essences
after
Voile D'Ambre
and
Rose Absolue
will be dedicated to the supremely elegant iris flower with a fragrance called
Iris Noir
(Black Iris). Lately, several significant launches have honored the bloom or are about to, pointing to an iris comeback as if every perfumer wanted to try their hands at an iris fragrance (often associated with a fashionable and noticeable note of fruity and musky ambrette seed):
Ormonde Jayne
Orris Noir
,
Acqua Di Parma Iris Nobile
,
Chanel
no 18
, more discreetly in the heart of
Miller Harris Fleurs de Sel
, also
Prada Infusion d'Iris
,
Guerlain Iris Ganache
, and the upcoming
L'Occitane Iris, Parfum d'Empire Equistrius
and
L'Artisan Parfumeur Iris Pallida 2007
. Black flowers are also very in with the trend having been particularly well exemplified by Tom Ford fragrances, starting with
Black Orchid
......
Iris Noir was composed by perfumers Nathalie Gracia-Cetto (Burberry Brit Red, Paul Smith Story) and Olivier Pescheux (Dior Higher, Paul Smith Extreme Men) of Givaudan in collaboration with artistic director for Yves Rocher Perfumes, Valérie André. Reportedly, the team wanted to develop the most joyful facets of iris for a bloom that is often associated with moods in half-tints like wistfulness, nostalgia, dreaminess.
The core is composed with a very expensive iris butter from Biolandes that costs 10 000 Euros per kilo. The start of the fragrance is fresh with coriander, bergamot, and carrot seed. The heart unfolds around the key note of the iris accompanied by the fruity facet of ambrette seed. The soft and feminine base notes include Tonka, patchouli, and styrax.
The perfume will launch with a promotion price of 27 Euros before reverting to the catalogue price of 47 Euros for 50 ml.
In the spring of 2008, a range of Eaux Fraîches will follow for the three fragrances and in October of 2008, a 4th Secrets d'Essences will be introduced before the brand settles into a period of respite for the collection. This recent exclusive niche line created by Yves Rocher has had the effect of attracting new customers to the brand.
Photo by Pierre Claiverole.
(Source: Cosmétique Hebdo)