Terre de Sarment, Caravelle Epicée, Passion Boisée, & Esprit de Fleurs (2007) by Frapin {Perfume Review & Musings} {New Fragrances} + Practical Perfume Application Tip for Winter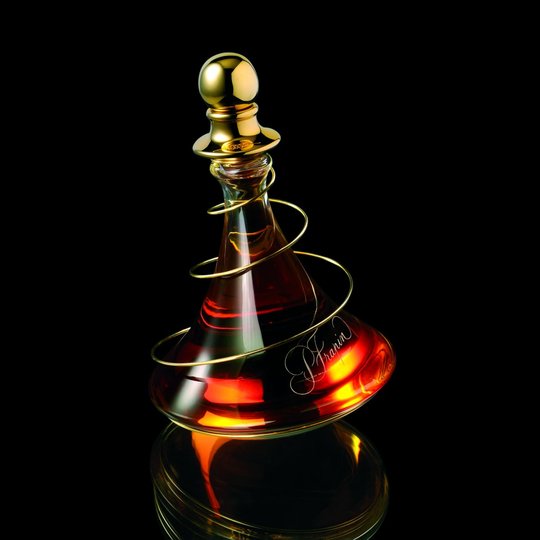 Cognac Pierre Frapin, cuvée 1888
Inhaling the different facets of the new quatuor of perfumes by
Frapin
which includes
Terre de Sarment, Caravelle Epicée, Passion Boisée,
and
Esprit de Fleurs
, put out by the venerable multi-secular French Cognac house ("established" coincidentally on a date marking the end of a period in the Middle Ages in 1270 cf. death of Saint-Louis during the 8th and last crusade) is as close as one can get to taking a stroll in imagination around the 300 hectares Frapin domain and, one surmises, smelling some of
Béatrice Cointreau
's favorite smells. She also more recently added Champagne Gosset to the family enterprise.
By now with all these names that are the names of both real people and famous alcohols one will have understood that for a specialized contingent of liqueur and wine producers the relationship between wine-making and perfume-making may quickly have become a self-evident one, that is upon further thoughts........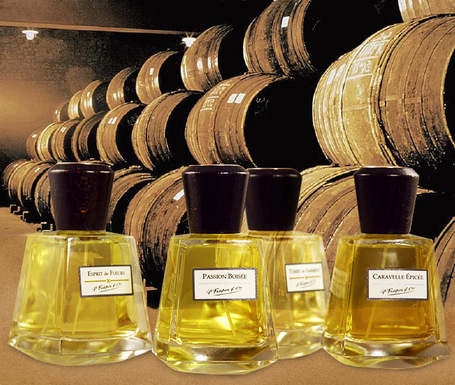 Béatrice Cointreau told a reporter once that her idiosyncratic method for testing cognac was to dab it behind her ears because she eschews drinking in general. She would then keep catching exquisite wafts of it throughout the day. A visit on the Cognac Frapin website reveals how the olfactory description of an aged 19th century cognac is one of the most lyrical - or some people will prefer to say purple - pieces of prose one could hope to come across. Perfumes have that effect on people too. One is tempted in order to seize the multiple aspects of a scent to do verbal scales and climb the ladders climbed by mystics to get closer to the divine, well sometimes. Taste and smell being closely linked it is natural but not culturally obvious to try to translate one experience into the other. Is this to say that the new Frapins are gourmand, gourmet perfumes? To some extent yes, but they also evoke places, nooks and crannies of a domain and a deep sense of comfort. They are affective scents. Reading elements of Cointreau's biography, one understands that these elements constitute key experiences for her. As a child she would wander from one olfactory point of reference found in the domain to the next. As Quentin Letts reported in 2002 in the Evening Standard,
"In the wood-panelled office of the cellarmaster, there were aromas of leather, dried wood and candied fruits. In the cellars, I would breathe in the acrid smell of the damp earth and the fragrance of the new casks, made from oak. In the lofts, there was a hot and dry atmosphere smelling of dried flowers, ripe fruits and hazelnuts," she says.

She would wander about until she reached Paradis, the family cellar where the oldest eaux-de-vie were stored. "There the smell was strongly of humus, almost animal," she recalls.


After Frapin 1270 issued in 2002, which paid homage to the once popular, in the 19th century, grape varietal Folle Blanche, the new quatuor of scents continues to refer to the rich aromas of the fruits of the earth with a predilection for woody tonalities and stylized realistic renditions of places: a vineyard, a cozy room, maybe a library, the hold of an ancient caravelle, and a dewy garden. The new perfumes are more an invitation to a deepening of sensations than a new outlook on these, one that would displace those sensations in unconventional ways. We are invited to reconnect with the sensuousness of the earth, pay closer attention to the smell of the humid or dusty soil, feel the roll of honey, tobacco, and rum in our mouths, plunge into memories or dreams of ideal places. Hence perhaps a certain conservative ambience symbolically suggested by notes such as rum, wine, muscat, oak, tobacco, leather. It smells Old France, of the soil and of the comfort derived from threading upon an ancestral land. Caravelle Epicée is a slight departure from the earthy local theme and pays homage to spices brought from afar, dreamt voyages to exotic lands. Incidentally, Cointreau loves sailing and her husband Didier Guiraud is an America Cup sailor.

We happened to experience the perfumes first after having spent some time with Paco Rabanne pour Homme and Azzaro pour Homme. To our mild surprise, the Frapins appeared initially to be a bit thin and less natural smelling next to these two department store - we realized even further – complex colognes. But after a while, the illusion of walking around a vineyard estate was created. The illusion of nature is rendered in more economical strokes than with the aforementioned colognes, hence the time needed to register the differences in style. Overtime, the playful element contained in the smelling of four parts of the same puzzle becomes more readily apparent and different facets of the scents emerge, slightly changing each time which keeps the activity interesting.

Terre de Sarment is "inspired by the early spring mornings and splendid Charente river views from the vineyard estate Chateau Fontpont..." It is the one that is most reminiscent of Frapin 1270 offering similar honeyed and candied fruits aspects. Its sweet fruity-woody scent accented by an earthy incense evokes at time the atmosphere of a cellar, at others, that of a vineyard as you walk in an earth that is partly damp, musty, and partly, dry, dusty and still musty. Our first memorable impression of it was that of the illusion of a cloud of finely matured fragrant dust lifting from the ground as one walked on the road by the vineyard. But then there are also the sensations of humid earth in the morning, grapes covered with wet soil, damp oak wood, and the scent of tannins. But before that it smells liquorish-y and sweet with hints of marzipan and cherry. One can smell as if pressing them against one's nose, the natural sugars of the grapes slowly matured by the sun. There are rich dark fruity undertones with subtle nuances of dark dates and green olives. It is honeyed and balsamic evoking beautiful golden grapes, blond woods, and a good Château d'Yquem. There is a dash of jam-y Chamonix-Orange cakes by l'Alsacienne in it too. Finally flowers exhale their scents lightly in the dry-down.

Notes are: grapefruit, neroli, cumin, cinnamon, nutmeg, orange blossom, incense, benzoin, tobacco, vanilla.....

Caravelle Epicée is the most exotic brew in the series and probably the most masculine one with its notes that seem proffered by a deeper timber of voice, as if resounding in the depths of a wooden hold. The copy says that, "Caravelle Epicée brings forth an awakening journey down River Charante to the ocean, following precious spices and silk." The scent is a rich woody and spicy concoction with faint green nuances offering a pungent opening akin to the experience of opening a savory-smelling Indian spice box. There are deep nuances of woods, cumin, nutmeg, cardamom, coffee, leather, sweat, milk. It mellows down to a creamy balsamic tonka and vanilla dry-down suggesting a bit of a chai impression. The woods are wonderful, so realistic one is afraid one will get a splinter in the hand.

It is also the most overtly sexy scent in the collection. It is quite animalic with nuances suggesting well aged, several day old sweat. Imagine Indiana Jones after a few days into one of his new adventures. The scent of decay is not appreciated by all, but we are of the position – usually labeled as French or old-world - that it signals a sophisticated approach since it requires a supplementary effort to be appreciated and detached from commonplace social stigma. Going back to animality and not being afraid to be confused with an un-groomed beast or human being implies a high degree of confidence and letting go of social complexes. Having said that, one is still free to dislike odors. The scent could be summarized, unjustly of course, as being a cross between Shiseido Féminité du Bois and Alexander McQueen Kingdom.

Notes are: Coriander, nutmeg, hot pepper, pepper, thyme, Gaiac wood, patchouli, amber, tobacco, sandalwood.....

Passion Boisée offers an interesting contrast between clear citruses and dark woods, two antithetical olfactory impressions a priori. These two facets are linked in the middle by a fruity-floral core based on Osmanthus, with its prune-y, tea-like facets. Osmanthus is not mentioned in the list of notes but it is remarkably present. Principal notes that emerge are orange, flowers, woods, cedar, tobacco, an animalic undercurrent. It easily evokes the atmosphere of a library filled with leather bound volumes, lit up by a crackling fire, and not far in sight, a soul-comforting glass of ruby-eyed Porto. Here again one perceives a wonderful sensitivity to the realistic rendition of woody notes; at some point it smells of wood stained with red wine and one can literally visualize all the fibers of that wood. This perfume diffuses particularly well.

Notes are: Tangerine, nutmeg, rum, oak moss, clove, leather, patchouli, cedarwood....

Esprit de Fleurs comes "From the vineyards of Grande Champagne, where lie the cellars of Cognac spirits..." By traditional standards it is the most feminine of the four as it is the most flowery (vine flowers). It is also the most classic. Woods are also present but in a more understated and neutral fashion. For us it evokes more the soapy-scented wooden beater of a washerwoman operating at a wash-house in the countryside. It is a bit reminiscent of the impression offered by Musc Samarkand by Les Néréides. It is a powdery floral with green overtones, hints of fresh flower stems, and a musky dry-down. There are soapy undertones of orris. The brisker accents of the beginning mellow down to a creamier sensation. It cultivates lightness and a clean feel, evoking at some point a light white wine with flowery nuances. The traditional name, amusingly, is the exact same name for a Guerlain perfume from 1828 called Esprit de Fleurs, which refers to the process of essences of flowers being added to alcohol.

Notes are: Bergamot. tangerine, grapefruit, basil, pepper, pink berries, orris, jasmine, rose, vanilla, cedar, vetiver.....
François Rabelais, an ancestor of Béatrice Cointreau, once celebrated the virtues of wine, saying "Jamais homme noble ne hait le bon vin"(Nary a noble man hates a good wine). This saying can now be applied to the inhaling of wines rendered into perfumes as well as to their tasting.
Somehow a disturbing Clintonesque image superimposed itself on this comparison; it only has very little to do with the case at hand.

The perfumes can be purchased at Aedes (complimentary shipping*) for $135 each and at Luckyscent for $140 each. Samples are available as well.
PS: On a practical note we have noticed that it is important especially in this dry wintry weather to hydrate your skin well before applying the scents. They are not designed to cling onto you no matter what. Even using a mineral water spray such as Evian (my favorite method) to moisten the skin before applying helps significantly.
You spray and disperse the water until the skin is slightly humid but not wet, then put your perfume on.
"*Receive complimentary Fedex Ground shipping for your Aedes order by entering the code "Holiday" in the comment box when checking out. Please note that the code "Holiday" must be entered in order to receive complimentary shipping. This offer is good for any Aedes order starting at $50 and is valid until December 04 (update: Dec 05), 2007. (The amount including the shipping will show up on your confirmation e-mail but will be adjusted when we process your order)."