Ambregris' Comeback 2006-2008 {Trend ALert}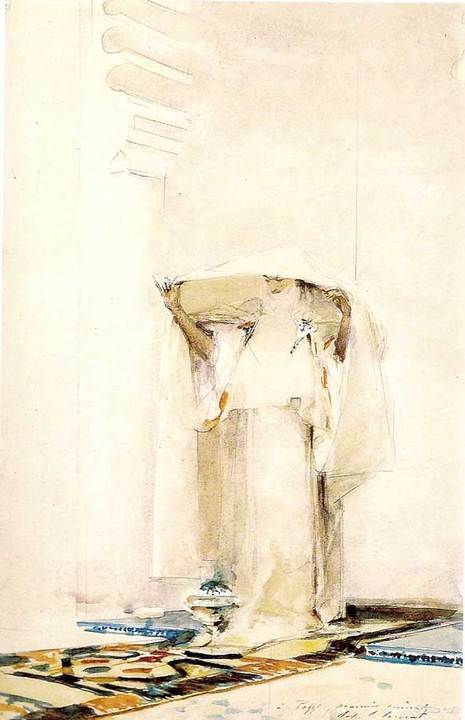 Incensing The Veil by John Singer Sargent - aquarelle version of the painting by the same author, Ambergris Smoke (1880)
JSS Gallery
Well, you cannot deny it now, ambergris is making a prolonged comeback. In a world where perfume trends can be short-lived (is the mega 2007 iris-trend still alive this year?), a classic material like grey amber that is not exactly pedestrian is seducing anew. The trend is essentially taking place within the niche sector of perfumery in an effort, we can assume, to find notes and accords that are rarer, i.e., neglected by the mainstream market, and offer a stronger personality. Interestingly, the contrast between the niche/mainstream iris-trend and the ambergris-trend as a solely niche one tends to show that the latter is slower to combust but more enduring.

So what noteworthy ambergris perfumes do we have here?.....
Ambre Gris Ambre Gris et Diamant Noir (2000) - an early pre-trendy perfume made in reaction to the "nouvelle-fraîcheur" (new-freshness) perfumes of the 1990s (see interview with Sylvie Jessua)

Serge Lutens Mandarine Mandarin (2006) - Serge Lutens had a special note of ambergris specially designed for him.

Les Nez L'Antimatière (2007) - it was in the works for 10 years. It contains a real infusion of ambergris.

Histoires de Parfums Ambre 114 - an explicit homage paid to ambergris

Annick Goutal Ambre Fétiche - a perfume (probably) inspired in part by John Singer Sargent's painting, Ambergris Smoke (1880) - the ambergris accord is reconstituted here with incense, labdanum, and styrax.

Balmain Ambre Gris - Another explicit homage paid to the precious raw material. They are reported to use real ambergris.
Please let us know if others should be mentioned.