Bespoke Fragrances by Francis Kurkdjian & A Historical Artifact: La Malle du Parfumeur {Perfume History & Facts}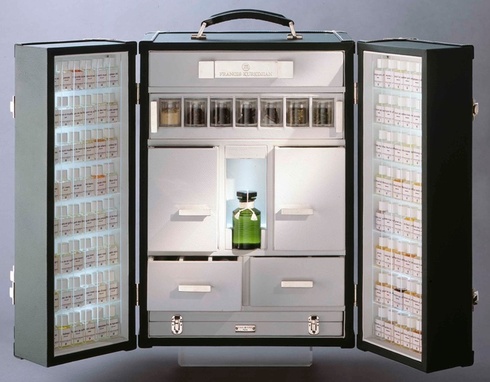 Perfumer Francis Kurkdjian is well-known to fragrance aficionados worldwide for his work that encompasses both mainstream and niche perfumery. He is the author, among other things, of Jean Paul Gaultier Classique, Fragile, Le Mâle, Narciso Rodriguez for Her, Narciso Rodriguez for Him, Fleur du Mâle, Guerlain Rose Barbare, Ferragamo F, Ungaro U, Indult perfumes, M.A. Sillage de la Reine and more. He won the prestigious François Coty prize in 2001. He also owns a private company of bespoke perfumes about which you can find more details on www.franciskurkdjian.com
We are pleased to bring you some information, a glimpse into the perfumer's world, by showing the custom-made briefcase Kurkdjian carries along with him when he visits his customers to create a unique perfume for them.......

This object is called "La malle du parfumeur" and described as a "nomadic laboratory" or "nomadic perfume organ". It was designed by Francis Kurksjian himself and custom-made by Fred Pinel. It is entirely covered in leather, a dark green shade outside, and a white one inside (colors were also custom-designed).
The drawers in the center contain the tools of the perfumer such as an electronic scale, blotters, a blotter-holder, a moleskin note-book to write down the formulas etc.
The green flacon which is baudruched and tied with a silk cord in the center will be filled in the end with the custom-made perfume and engraved with the name of the client.
The malle weighs 15 kg, can be covered with a water-proof slip and is brought along on a small trolley.
It took 14 months to make the malle du parfumeur and more than 1000 hours of work not counting all the telephone calls and visits to the workshop!
If you are interested in learning more about this bespoke service, you can call 01 42 77 40 33.