Perry Ellis for Men (2008) {Perfume Review} {Men's Cologne}
The new
Perry Ellis for Men
by
Perry Ellis
represents an avowed effort on the part of the brand
to go upscale
under the aegis of its new owner since 2007, the Falic Fashion Group LLC. This evolution is immediately noticeable in the design of the bottle which is more soigné; it aims to convey a sense of luxury through the heaviness of the glass flacon especially (it is very heavy) - the cap is made of composite wood and the strap is a nice modernist touch and apparel reference but the metallic details could have been of better quality it seems; then the advertising is aspirational in two senses: both in the sense of presenting an image of luxurious lifestyle somewhere on the Italian coast, but also in making more democratically reference to a carefree summer holiday atmosphere; finally, the character of the jus itself comes across as life-affirming, frank, relaxed, sensual, devoid of complexes - the designers who mothered the scent do not hesitate to underline "...
a bright freshness with commercial appeal
."
Perry Ellis for Men makes you think of a smiling, charming
beau gosse
who could not care less about what is in and what is out because every clothes fall great on his frame. The fragrance has an easy, smooth charm while being masterfully blended; it obviously did not torture itself about being avant-garde, edgy, or even trendy. It takes a well-tested classic persona of citrus + spices + woods + amber forming a fresh and warm contrast, but manages to impose its personality thanks to the quality of the treatment by perfumer
Mathilde Bijaoui
who reveals her finesse and a very good sense of balance....
Image from the photo shoot for the advertising for Perry Ellis for Men - model is Nir Lavi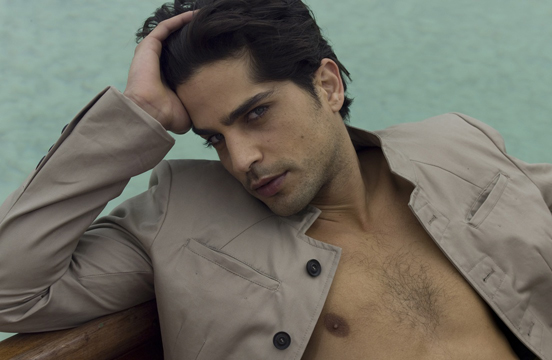 Bijaoui is also the author of Penhaligon's Lily and Spice, Betsey Johnson, Roget et Gallet Cédrat and Jacomo for Men. The cologne is said to have been developed with Perry Ellis International's Creative Director
John Crocco
. The composition is described as being a "sensual woody" scent and the sensuality comes from a very enveloping ambery body which is subtly resinous and on the sweet side.
The perfume resembles for example
Saks for Him
, which can be defined as being neo-classical as well or traditional with a modernized feel if you prefer. But at the same time it is distinguishable thanks to its intense character and very round signature.
Perry Ellis for Men opens on an outburst of citruses that is particularly delicious. The freshness of the first moments is supported by a crisp green apple accord as well as a frozen ozone one. The light resinous and woody notes are already apparent feeling like a satin ribbon unrolling and running throughout the scent such is the dominant sensation of smoothness.
Although orris is not mentioned in the list of notes, it seems that there is a subdued powdery and iris-like quality to the scent in reference to the new classic Dior Homme.
In general, the notes are so well blended that they hardly emerge in an isolated fashion. For example, the perfume gives out an indefinite floral character but without feeling feminine although in the end you conclude that a woman could wear it. It offers the kind of gender balance found in Guerlain Habit Rouge. Later, the press release indeed explains that "masculine florals" were used in the heart such as orange flower, white lavender, a rose blend, and violet leaves.
The base after the surprising intensity of the development - even more so considering it is an eau de toilette concentration - finally betrays its lighter character; the finish line is thinner and loses the dramatic sense of unfurling that just preceded. It features amber, black patchouli and warm woods. The patchouli is neither earthy nor clean but very subtle making you think of black smoky tea.
The most remarkable trait of this cologne is its satisfying orb-like olfactory shape. Roundness in perfume is considered a desirable quality and one does not encounter it that often. The perfume is exceptional in the way it maintains this roundness and perfect radiating structure. It is akin to the imaginary sensation of smelling a perfect diameter. Second, one has to notice also the very subdued, controlled development evoking the feline strength of a jaguar. Psychologically speaking, Perry Ellis for Men is frank, transparent and absolutely uncomplicated, even offering a wholesome brand of sensuality. What you smell is what you get.
For shopping information please go
here