Lush Sees Link Between Naked Backsides & Packaging {Scented Picture of the Day - Perfume Images & Adverts}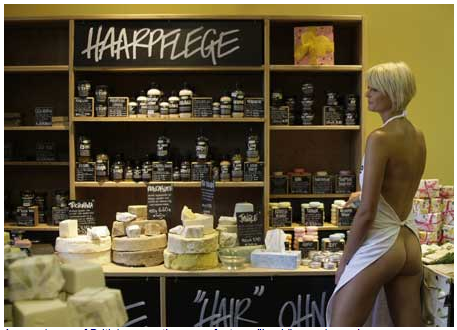 Nudity on the street
was a chosen theme for Agent Provocateur to advertise their lingerie line at the beginning of this year. Lush, another British beauty brand, is now seeing a link between proud derrieres offered to the four winds and a green message protesting the overuse of packaging in the beauty industry.
I think that
Tom Ford is left in the dust here
after this advertising campaign with 3-D shock-value instead of just 2...
Lush employees were asked or probably volunteered to pitch in by shedding their own superfluous packaging (remember how at some point in the 19th century only prostitutes wore undies because those were considered too erotic!)
Wearing nothing but a simple white apron they seemed to have had to rush to work sometime in the Stalinist era, just fresh out of the shower, for fear of being late but no, they were there that day with a mission.
This happened in Berlin on August 13, 2008.
Time will tell if this was an effective ad campaign for less packaging.
Via
Xin Hua
Update: The campaign has been stamped with the Worldwide-Gratuitous-Ad-Ass seal of approval or rather disapproval by
Copyranter
. Check out his list, it's sure to elicit a chuckle or two or alternatively make you raise an eyebrow or two.