Editions de Parfums Dans Tes Bras (2008): Futuristic-Nostalgic Violets {Perfume Review & Musings} {Violet Notebook}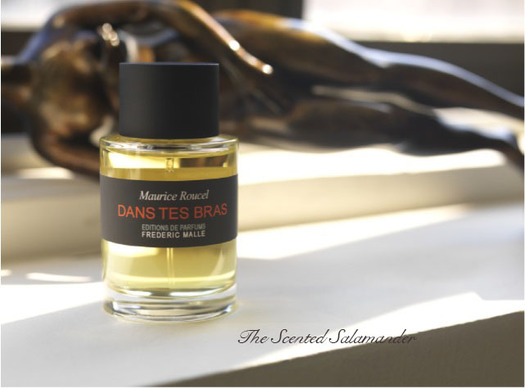 Dans Tes Bras by Maurice Roucel for Frédéric Malle Editions de Parfums

The Skinny:

Perfumer: Maurice Roucel
Artistic Director: Frédéric Malle
Gender label: Sexless
Notes: bergamot, clove, violet, jasmine, sandalwood, patchouli, salicylates, incense, Cashmeran, heliotrope, white musk.
Characteristics: nostalgic and futuristic; a violet perfume looking both towards the past and the future, attempting to decipher the unknown, the yet-to-be-smelled.
Personality: a beautiful refined and subtle skin scent
Wearability: very easy
Price point: $$$: entirely worth it
Bottle: Editions de Parfums use a standard flacon in two sizes which resembles a modern, round inkwell; simple and elegant.
Perfumes discussed: Après L'Ondée (inspired by); Jicky


The Review:

Violets for the Future

Dans Tes Bras, the latest creation by Editions de Parfums, a French perfume house specializing in fragrances with a more demanding than average sense of authorship, is at its most immediate level a perfume showcasing peppery, powdery and leathery violets.

In a more sophisticated fashion, the perfume manages to convey the impression that it owes its very existence to the progress of fragrance chemistry, and more particularly to the presence of an unnatural-smelling aromachemical component that comes across as beautifully synthetic without losing its power of poetic evocation.

The sensation of smelling an odd olfactory intruder remains a bit vague and cold yet harmonious like the atmosphere of a modern art exhibition that would have been set in an ancient 19th century factory made of concrete and steel both ancient and very current, playing up contrasts and welding them at the same time...
The traditional powdery facet often associated with delicate violet bouquets thus comes to verge more on the scent of cement dust. More generally speaking, the perfume feels like a fragrance a character from Blade Runner could have worn. The more contemporary and even science-fictionish quest of novel accords here is consistently coupled with a more old-fashioned sense of known and experienced humanity.

Next, a more physical, shapely and doughy iris-violet emerges still remaining quite modernistic in tone as it is paired with a more abstract sensation, a little like the image - and again the contrast - of a romantic posy of violets left forgotten on a hard record playing no particular music but creating a haunting vision and circular rhythm.

There is a profound nudity and simplicity to the composition, a sense of contemplative silence broken only by the suggestion of the silken contact of skin: we can imagine a slightly disincarnate love scene and embrace taking place in a Tarkovsky movie echoing with the sound of footsteps in vacant architectures.

The violet accord becomes softly metallic but seems brushed and softened down at the same time by grand-mother's love, the smell of her iris-y, bready fingers.

The perfume becomes peppery, powdery, a bit doughy again with a sprinkle of cinnamon, something that feels like violet chewing-gum spiced up with fiery red spice.

It smells of nothing in a way, yet it smells good.


The Après-L'Ondée Filiation - Further Reviewing


Frederic Malle explained in an article in the Independent that perfumer Maurice Roucel drew inspiration from the Guerlain classic from 1906 Après L'Ondée by Guerlain to compose Dans Tes Bras (In Your Arms/Embrace). This is at least the second time that Roucel has shown explicit interest in paying homage to that opus and in this manner by perpetuating a perfumery lineage that has been somewhat neglected; he already did that perfumery study with Insolence. It is also, interestingly, the second time that Editions de Parfums by Frederic Malle publishes a work derived from Après L'Ondée: the first one was L'Eau D'Hiver by Jean-Claude Ellena.

I see this explicitly stated lineage being more intuitively perceptible later in the development of Dans Tes Bras, but not immediately at first. What I find even more interesting is how a more intimate facet of Après L'Ondée was captured this time; it is not the more obvious and literal violet-iris one. At a later stage, the scent captures the dry-Champagne, citrine-colored facet of Aprés L'Ondée, which is more apparent in the parfum version I have experienced in the past (I have not re-smelled the extrait recently and only have the eau de toilette handy). Dans Tes Bras even recreates that little crackling sound, seemingly that of the breaking of a slender brittle twig that Après L'Ondée in parfum seemed to offer. The cool décalé scent of aniseed-fennel is here too.

It is interesting when you come to think of it that not more universal admiration has been expressed for Après L'Ondée, which entirely deserves it. It has always been one of the lesser-known Guerlains worn by those who were looking for the rarer, more challenging "niche" offerings of the perfume house even before the terminology existed. It is one of the snobbier Guerlains, if you will.

The Coolness of a Guerlain

To me, Après L'Ondée is also a cold Guerlain scent reflecting the wistful, melancholy and reflective side of the house. I like to think that Jicky is another link in that filiation of compositions made somewhat colder by the reining in of emotions, the suppression of feelings, as the latter was inspired by a love story with an English woman with an unhappy ending for Aimé Guerlain (the name also reflects the Guerlains' anglophilia as it was the nickname given to Jacques Guerlain). If the Guerlains' main source of inspiration has been love and admiration for women by their own admittance, their warmth and the gold-colored happiness they inspire (Shalimar), the perfume house has also been capable of expressing more half-toned moods and reveal at times its propensity for melancholy.

I am also tempted to think that those other perfumes can even be perceived as flegmatic ones as well and I am encouraged to do so even more so when remembering the English heritage of Guerlain. Let us not forget that Pierre François Pascal Guerlain did his apprenticeship in perfumery in England before returning to France and establishing his house in 1828. Après L'Ondée incidentally to me is the perfect embodiment of the atmosphere of a damp countryside walk taken by a heroine in a Jane Austen novel.

Stunning nuances of violets appear in Dans Tes Bras ranging from pastel mauve to dark black violet with a faint sensation of crushed green leaves. The perfume progressively gains in a sense of transparent gauzy sensuality; it is both warm and crystalline, with a hint of the smell of freshly ironed clean sheets. It thus smells both ancient and au goût du jour (the laundry accord, which might indicate a nod to the US market) artfully choosing a smell that is unmistakably of the end of the 20th century and beginning of the 21st century, yet offers an atemporal, slightly nostalgic quality.

Après L'Ondée remains there in the background like an image of the perfume reflecting itself in rippling water, a ghostly seductive presence, a faded yet accurate and precise rendition of it with the same level of tangible reality as a palely wan Daguerreotype framed in an unknown, modernistic and new material.

Dans Tes Bras is a stunningly beautiful scent offering qualities of subtlety, refinement and intimacy. In it, warmth is always paired with coldness.

When you thought that all the violet scents had been done to death, here comes a renewing experience.

For an explanation of some of the perfumery ideas behind the scent, see previous post

Important practical information: you can now order samples of all the Editions de Parfums scents on their website, 5 Euros for 3 X 2 ml samples.