Emeshel Nubia Yellow, Green, Red, Rose, Violet (2008): Sensually Inspired by Ancient Arabian Virility {New Fragrances}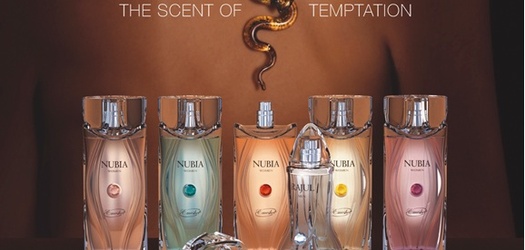 Why anyone should consider trying the new
Emeshel Nubia
collection is pretty obvious to me: the out-of-control, involuntarily funny ad copy holds a lot of promise for added comic fodder in the future when the scents will be smelled and evaluated next to their descriptions.
What were they thinking?
It looks like the brand has been aiming the Eyes-Wide-Shut crowd.
Emeshel is a Hungarian crystal and glass manufacturer and the perfumes were created by
Zsolt Zolyomi
.
"Emeshel Beauty is an unprecedented new line of luxury fragrances featuring a collection of five women's Eau de Toilettes under the title of NUBIA, named after the ancient state of northeast Arabia once occupied by the Egyptian kings. Also part of the newly launched Emeshel Beauty line is the company's first cologne for men, RAJUL, named after the ancient Arabic word for "Man. Each perfume is identified by its own color and unique scent and has been provocatively designed to resemble the human sexual organs, taking the art of perfumery to a whole new dimension of artful sensuality and symbolism. Emeshel Beauty is considered to be the first line of fragrances of its kind in the world." ...

I am glad they pointed out this selling point for the bottles because otherwise just looking at the visual, I might not have got it.
"Nubia Yellow brings together the scents of refreshing lemon juice, fresh citrus and limes with a fragrance combining oil of bergamot with sweet orange from Brazil. Nubia Red evokes the delicate aroma of a sensual Odalisque, with hints of tangerine, vanilla, blackcurrant and musk. Nubia Green portrays the bouquet of a newly mowed lawn, green leaves and an intensely crisp lemon combined with refreshing dew. Nubia Rose implies freshly brewed ice tea, oil of bergamot, grapefruit and orange -- combining the aromatic fragrances of a modern-day metropolis with a metallic elegance. Nubia Violet brings the fresh, waggish notes of the fruit-bearing harvest, complete with ripe grapes, sun-kissed blackberries, mulberries and hints of green apple, peach and sea breeze"
There is more from the press release on
Market Watch
The site
Emeshel
also features additional material