Fragrances of the World 2009 Silver Anniversary Edition {Fragrance News} {Fragrant Reading}
Like each year since 1984, author and arguably pillar of the fragrance industry
Michael Edwards
publishes a new augmented edition of
Fragrances of the World
, a compendium of the fragrances that are available in the international market in designer but also niche categories (since 1998) while also listing new flankers and limited-editions. Its comprehensive and cumulative character has earned it the nickname of the "Retail Bible" (of the perfume industry).
For the 25th anniversary of Fragrances of the World, Michael Edwards is marking the jubilee with a special edition titled the
Silver Anniversary Edition
. According to the press release,
"
Fragrances of the World 2009 classifies over 6,500 fragrances and adds more than 800 new releases.
"...
This confirms estimations and observations that the production of perfume is reaching unprecedented levels of expansion in recent years.
The book this time is dedicated to famed artist and perfume-bottle designer
Pierre Dinand
and features a selection of his drawings and flacons.
"Since 1960, Pierre has created more than 700 perfume bottles. Some of his most famous creations, such as the bottles for Opium, Pleasures and Obsession, are featured in the book, illustrated by his drawings."
Courtesy of Fragrances of the World, we have the following tabulated
preliminary
analysis, as of the beginning of November 2008, of the 2008 launches,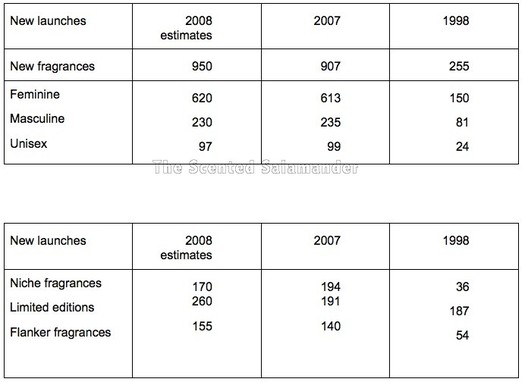 The launches of new fragrances is continuing to follow an upward curve this year as compared to 2007 (
last year the guide listed over 5,700 perfumes
) and has shot up since 1998. Feminine perfumes are still dominating the market while there is a slight decrease of masculine launches (last year was particularly eventful in this regard).
Niche fragrances are in slight regression quantitatively speaking although arguably, given the margin, it might be just more difficult to track down all of the niche releases, except for the better-known brands. Michael Edwards is also selective in his appraisal of who amongst the niche brands he ought to include in the guide. I think that the rationale is to try to see what is a legitimate effort at the creation of a perfume with some integrity and personality versus a pure copy of an existing fragrance developed by a bigger label with much more enormous means devoted to research. On the other hand, there are such xerox-copy scents within the mainstream design market, but the brands have a standing of their own so they are included. It is not the purpose of the guide to "critique" originality and do qualitative analysis.
Limited-editions and flankers are up. It can both signal success or simply brand-name commitment or a conservative trend.
All these figures are preliminary.
"Copies may be ordered online at
http://www.fragrancesoftheworld.com
, with a 10% discount applicable for all orders received before 15 December 2008."
Via press release