Tova Signature Reserve Eau de Parfum (2008): Aged 9 Months {New Perfume - Limited Edition}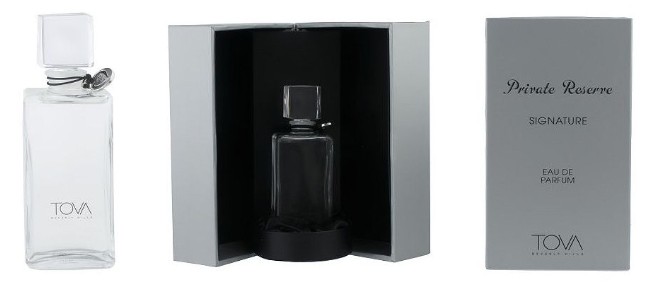 Tova Beverly Hills
has released a new limited-edition variation of their Signature perfume called
Tova Signature Reserve
to celebrate the
25th anniversary
of the brand. The more upscale scent is advertised as being the same as the original except that the concentration of oils is higher, 34%, which would qualify it as an extrait although it is billed as an eau de parfum.
The perfume has reportedly undergone an exceptional maturing process of 9 months instead of the usual 3. Tova Borgnine likens it to the maturing process of cognac or alternatively to that of the gestational period...
According to the ad copy,
"Similar to a fine wine, signature private reserve develops deeper, richer, and more complex notes as a result of macerating for nine months. It also contains 34% essential oils, one of the highest concentrations available in a fragrance."
Long-time devotees of the perfume have been expressing
their woes
regarding a new, non-advertised reformulation of the Signature edp, complaining about its lack of tenacity and loss of quality. Tova herself insists in the QVC video that the quality was maintained but that the Reserve is taking the scent "...
to the next level
."
Notes include: Italian bergamot, jasmin absolute, Provence lavender, Indian sandalwood, "hypnotic, aphrodisiac" musk,...
The new limited-edition might just be a return to previous standards of quality that older customers had been hoping for.
The splash flacon (not a spray) is showcased in a coffret and bears a metallic medallion commemorating the 25 years of Tova Beverly Hills.
The Signature Reserve is priced at $75 for 3.3 oz on QVC.com
Another recent scent by the brand which came out this fall is
Tova Ambre d'Oro