Caron Is Beating The Recession With Ales Groupe {Fragrance News}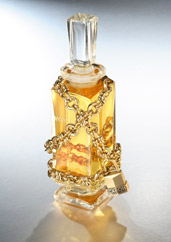 Caron
established in 1904 by Ernest Daltroff and now under the guidance of the Alès Groupe is reporting a growth in its fragrance business despite the downturn of the economy in general.
This is especially apparent in the French market, its main perfume market although total sales have progressed internationally 5,2%...
Caron Montaigne in the Volez-Le (Steal It) 2008 limited-edition flacon.
...(check out their perfumes to know how a "French" perfume smells like, notwithstanding the fact that Daltroff was Russian and very well-travelled but still a Francophile) where the perfume sales progressed nearly 12% in great part due to the popularity of the
Caron-Homme ad campaign with rugged-type rugbyman Sébastien Chabal
...
Caron's business is broken down into three main activities: 1) cosmetics (97,2 millions Euros) 2) hair products (63,8 millions Euros) 3) perfumes, curated and created by in-house perfumer André Fraysse (10,3 millions Euros).
Source: FashionMag.fr