Guerlain La Petite Robe Noire & Didier Ludot: Update {Fragrance News}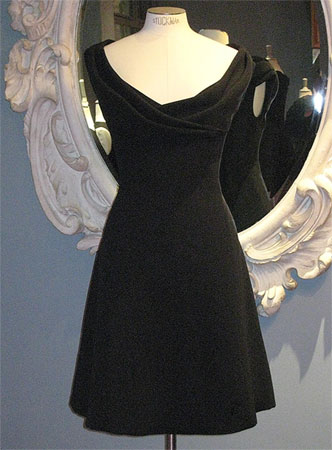 Interesting news. When upon learning initially about the launch of La Petite Robe Noire by Guerlain (The Little Black Dress; see
our review
), I immediately made
a connection with Didier Ludot's boutique franchise
as well as
his own eponymous perfume dedicated to the universe of the LBD
, but which did not bear its name...
Now, according to
FashionMag.fr
, we learn that the phrase "
La Petite Robe Noire
" on the bottle designed by Serge Mansau is not in Mansau's hand but in Didier Ludot's very own handwriting (this was not advertised in the Guerlain press release; only Mansau's name was cited).
Further, Didier Ludot is said to have created a LBD directly inspired by the Guerlain perfume with materials of Moroccan crêpe hanging on crisp silk organza (see picture above). The dress will be exhibited in the Guerlain windows.
It sounds like an amicable agreement was made to bring Ludot into the Guerlain fold in order to be able to use that great name without hassle.
Maybe Chanel could not say anything because then experts would have pointed to the
Madeleine Vionnet's intellectual property rights or place in history
. The avant-gardist couturière was very proactive regarding copyrights as she was copied by many. Karl Lagerfeld himself has said that everyone has been influenced by Madeleine Vionnet.