Tova Signature Platinum (2009): Trying To Recapture The Old Mystique {New Perfume}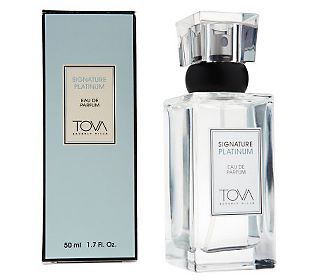 Tova
Beverly Hills
just added a new fragrance called
Tova Signature Platinum
to the
Tova Beauty
line. More than a new perfume it is a newly baptized perfume officially aiming to recapture the original formulation and lustre of
Tova Signature
. With a war name like Tova Platinum, one will have gathered that the scent is also meant to be a new chapter in her communication efforts with her loyal customer base and fans of the Tova Signature.
As readers of this blog may have read about already, Tova Signature is arguably one of the most popular and beloved perfumes in America.
People are very attached to it and the old version is consistently reported about as a major compliment-gatherer. The problem is that the flip side of this unconditional love is what could be termed
reformulation rage
. Just like there is such a thing as road rage, there is also a less prominently publicized phenomenon which exists nevertheless called reformulation rage #!?!!§! which affects long-time fragrance customers and seems to run the gamut from disappointment to heartache to anger to explosive rage over changes perceived in their favorite fragrances....
Picture: Untitled by Rosemarie Trockel (ceramics, glazed, platinum)
A perfume is precious in ways other than monetary. If you read
this thread here
, you will see that I am not kidding.
In recent years, the level of discontent seemingly swelled like a wave in the Pacific. After
Tova Signature Reserve
(see also
Tova Signature/Tova Reserve: All in the Eyes of the Beholder?
), which was a more indirect attempt at assuaging the dissatisfaction of her customers, Tova Borgnine introduced Tova Signature Platinum with the now explicit purpose to restore the image of the perfume and trust of Tova Signature fragrance lovers. It makes for an interesting bit of perfume copy,
"What is it: The legendary Tova(R) Signature eau de parfum has been enhanced in an effort to recapture the mystique and allure that made this a fragrance unlike any other in the world. Three main steps were taken in this fragrance reformulation:

Tova has gone back to the original creators of Signature and they have sourced the highest quality ingredients available--the finest jasmine and bergamot from Italy, French lavender from Provence, and rare East Indian sandalwood....
Signature Platinum also features a higher level of musk notes which are responsible for the long-lasting richness that originally set Tova Signature apart from other fragrances

Tova has increased the concentration of fragrance from 28.5% to 32.5%, making Tova Signature Platinum one of the most highly concentrated eau de parfums in the world!

Who is it for: Anyone who has loved Tova Signature throughout the last 25 years.

Why is it different: At 32.5%, Tova Signature Platinum has one of the highest concentrations of fragranced oil in an eau de parfum. More fragrance means more to smell!

How do I use it: Tova Signature Platinum comes with a sprayer that delivers over twice as much fragrance per spray than the average parfum bottle. Rather than spraying directly onto your skin, spray the fragrance in the air around you, allowing it to settle upon you. Avoid spraying and rubbing into wrists to prevent crushing the individual notes."


"Platinum" here is really a metaphor for restating the quality of Tova fragrances. The perfume is still housed in a simple transparent glass and plastic bottle. Incidentally, an argument Tova Borgnine offered previously was that the change of packaging may have influenced perceptions of the perfume, but this reasoning has been abandoned here. Tova Platinum has a slightly less high concentration of oils as Tova Reserve (32.5 % vs. 34 %) and was not "aged".
A bottle of 1.7 oz Eau de Parfum is priced at $36.
It is priced currently at $29.71 for pre-orders
.
Thanks to reader Marcia for letting us know about this new launch!