UK Mixologist Creates Chanel No5-Inspired Champagne Cocktail {The 5th Sense in the News}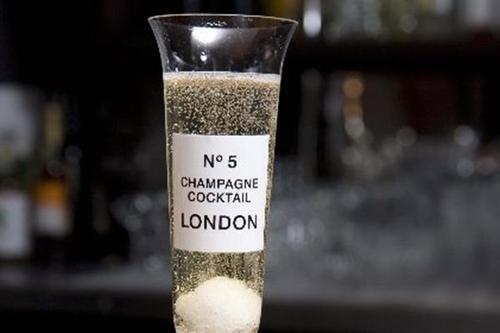 Perfume and food overlap more often than not. In this case another bridge was thrown by British mixologist
Tony Conigliaro
between the No.5 and a refreshing beverage. It took him 2 years to develop the cocktail called
No5 Champagne Cocktail
served in a custom-designed long flute glass with a wider rim to better control the physics of champagne bubbles (see
Champagne Bubbles Essential to Taste/Smell
)....
To that effect he mixes some of the main ingredients found in the original Chanel No. 5 fragrance while using a sugar cube as a device to bring notes to the top. Interestingly, perfume aficionados often compare aldehydes which characterize the No5, to a sparkling champagne-like effect, which is also, as one can see, the best way to drink Chanel No.5.
Conigliaro reportedly uses "
food-grade versions of the five primary aromatic compounds that scent that perfume -- ylang-ylang, May rose, sandalwood, jasmine and (something else), combined as essences and dropped onto sugar cubes, which were then used to make a Champagne cocktail
." according to
Chuck T
There is a vert interesting interview with the creator on Dazed Digital,
Dazed Digital: What prompted you to design a cocktail which took on the fragrance of an iconic perfume?
Tony Conigliaro:
I had been studying perfume and talking with perfumers, and I noticed the similarities between what they did and what happens when making cocktails. It was then I came up with the concept.
Read more...
This cocktail and others can be tasted at
The Bar with No Name, 69 Colebrooke Row, Angel of Islington, London
.