Creed Acqua Fiorentina (2009) Presented to Michelle Obama & More Information {New Perfume} {Fragrance News} {Celebrity Scents}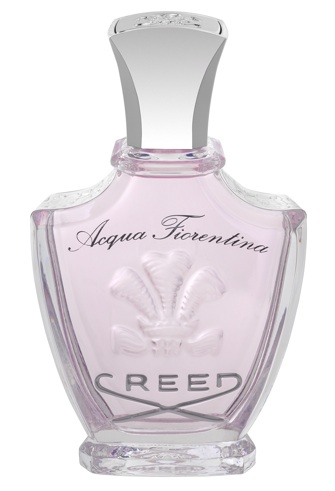 Today TSS learned that
First Lady Michelle Obama
was presented with the gift of the upcoming new fragrance by the house of Creed called
Acqua Fiorentina
(Florentine Water) to be launched in September in the US. Queen Rania of Jordan and President Cristina Fernandez de Kirchner were also honored with the new fruity floral inspired by Tuscany and Renaissance Italy.
Michelle Obama has already revealed her personal taste for perfume by reportedly purchasing three
Boadicea
fragrances in London, and as a child noted at another time during a public visit,
by betraying a liking for cherry scent
.
According to Creed,
"..premier bottles of CREED Acqua Fiorentina were delivered to the office of the First Lady (six bottles!), Queen Rania of Jordan and President Cristina Fernandez de Kirchner of Argentina, by request of Olivier CREED."...

Furthermore, we received additional details about Acqua Fiorentina (see
previous post
), whose color pink symbolizes in part the house's support for the National Breast Cancer Coalition Fund in October 2009,
"CREED Acqua Fiorentina is hand made with flowers and fruits from the orchards and gardens around Florence. Greengage plum is the masterpiece top note. Renaissance roses, pink carnations, vivid bergamot and Calabrian lemon are the master's choice for the thriving heart. Warm base notes of Virginia cedar and Indian sandalwood are the sculpted wood frame for this work of art.

Acqua Fiorentina is visually pink like gently stained glass or sun on the Arno River at morning. It is also pink for health. A portion of proceeds from U.S. sales of the fragrance during October will support the National Breast Cancer Coalition Fund.

The bottle's accents recall Renaissance style. Silver flowers etched on the bottle's sides evoke the beauty and prosperity of Florence -- and wisely spent Florentine wealth, which created a legacy of art that endures today.

CREED (www.creedcollection.com) is the world's only privately held luxury fragrance dynasty. Founded in 1760 and passed from father to son since then, CREED has served more than 10 royal houses, heads of state, leading artists, business leaders and renowned athletes for 249 years. CREED is based in Paris."